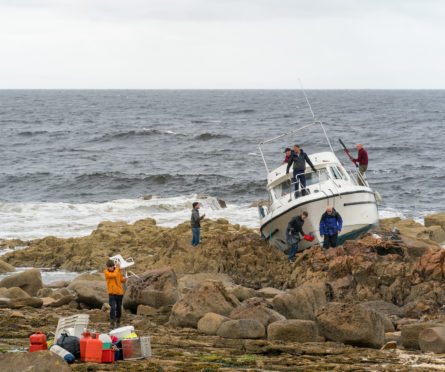 A vessel which dramatically grounded onto rocks on Saturday evening remained beached on the coast near Burghead yesterday.
The Sea Scout-owned vessel stayed put while its owners liaised with Moray Council and the harbour master at Burghead.
It is understood that the Sea Scouts are awaiting an assessment from insurers before any removal can take place.
The vessel dramatically ran aground on Saturday evening, with three people rescued from the water as a result.
An emergency was declared shortly before 8pm on Saturday when the 30ft boat was spotted struggling in the water a short distance from shore, during a spell of poor weather.
Multiple rescue crews raced to the scene to provide their assistance.
Three people were aboard the vessel prior to its grounding, but they abandoned the vessel and sought safety in their inflatable life raft.
Those on board the motor cruiser had reported it had lost engine power, contacting rescue services by VHF Radio before abandoning ship, with rescuers saying they had been "extremely lucky".
All three of the occupants were safely brought to dry land and did not suffer any serious injuries as a result of their ordeal.
A spokeswoman for the Scouts Association – of which the Sea Scouts are a branch of – yesterday confirmed the vessel was not in use for a Sea Scout operation at the time.
She continued: "We are aware that there was an incident on a Scout-owned boat on Saturday evening. The boat at the time was being hired out by a group of people and was not part of a Scout event.
"There was engine failure on the way back from Forres. The people on board were rescued quickly by multiple teams.
"We are glad that there were no serious injuries and everyone made it back to shore safely.
"The Scout Group sent a salvage crew in and have taken off all moveable kit and flares etc. while they await an insurance inspection before further action can be taken."
Burghead coast rescue team, Moray Independent Rescue Boat (Miro), Buckie lifeboat and a rescue bond helicopter from Aberdeen all were sent to provide assistance, alongside the Scottish Ambulance Service.
A water rescue was carried out by the Burghead coast rescue team, with all three people from the vessel brought safely to shore before being checked over by the ambulance service.
Jonathan Mustard of the coastguard said: "The people were extremely lucky, fortunately, they were all wearing life jackets and had suitable lifesaving equipment with means of raising the alarm.
"They were able to abandon their vessel for the life raft.
"Coastguard rescue officers entered the water, in rough conditions and were able to bring everyone safely to shore."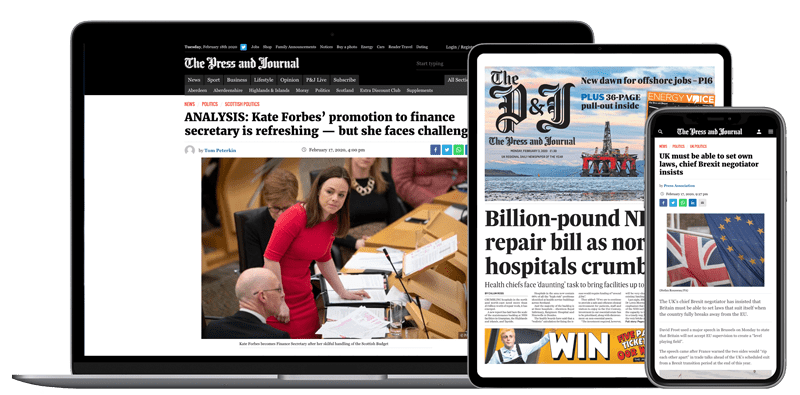 Help support quality local journalism … become a digital subscriber to The Press and Journal
For as little as £5.99 a month you can access all of our content, including Premium articles.
Subscribe