The north-east's livestock elite took centre stage yesterday for the final day of the Keith Country Show.
And there was a generally positive mood among the myriad attendees, despite concerns about falling beef prices and the looming impact of Brexit on the industry.
Farmers from across the area travelled to Moray for the region's largest agricultural show, which dates back to the 1870s, with more than 600 entries.
Thousands packed the show field throughout the afternoon, even as the grey sky and rain from the opening day made way for blue sky and sunshine.
Judging for the classes began in the pens in the early morning when the adjudicators selected the 'best in breed' in different categories.
The crowds then swelled for the judging of the champion of champions parade in the Scottish Beef Cattle Championship.
And they were rewarded with a local winner as the Simmental heifer shown by Andrew and Reece Simmers, from Backmuir near Keith, claimed the national title after winning at Turriff last week.
Later in the day, spectators were offered an opportunity to experience life in the saddle in a donkey derby race and even got the chance to buy one of the animals to take home.
Children also dug their heels into the sodden ground for their own tug-of-war competition.
Show chairwoman Angela McWilliam said: "We've been absolutely overwhelmed by the support from the community, even when the weather wasn't so kind.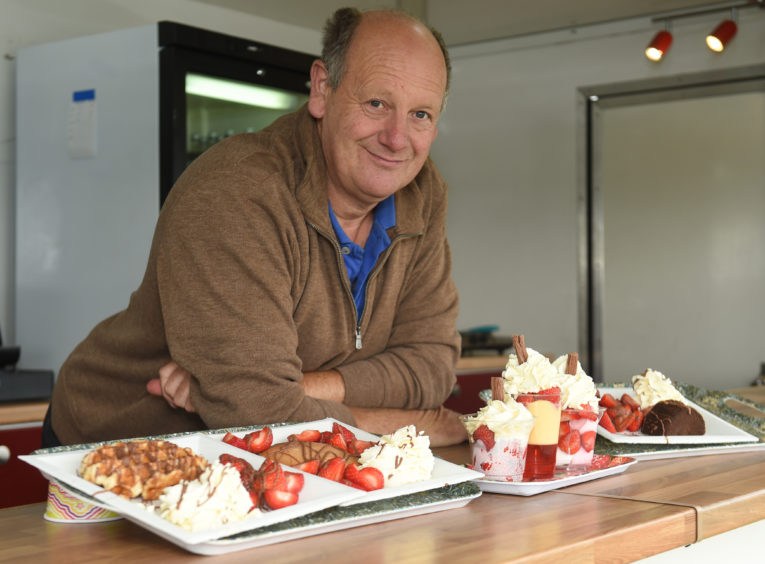 "The people of Keith are very proud of their show. It's the biggest in the area and we've had a fantastic turnout of entries once again with cattle, sheep and horses."
Keith and Cullen councillor Theresa Coull added: "It's a huge event for Keith and has a huge impact on the town. It doesn't just bring local people together, but it attracts tourists too and it's a truly international show."
Away from the action in the ring, crafters created an array of colourful displays while gardeners displayed their finest vegetables.
Meanwhile, talks were taking place amongst the farmers about plummeting beef prices, which have dropped about 10% during the last year.
Charlie Adam, vice-president of NFU Scotland, said: "Shows like this are a great advert for quality beef, but farmers are also aware of the degree of danger because prices are at a very low level.
"People are seriously concerned whether it's economically possible to maintain their herd. The current price is simply unsustainable. The discussions today have been all about the two Bs – beef and Brexit."
Moray MSP Richard Lochhead also held talks with beef farmers at the show throughout the day.
He said: "It was great to see the weather hold up for the Keith Country Show, particularly considering the monumental amount of work the organisers put in to holding it.
"The event is an opportunity for me to keep my finger on the pulse of countryside and agricultural issues and, unsurprisingly, the discussions have centred on Brexit and also falling beef prices."