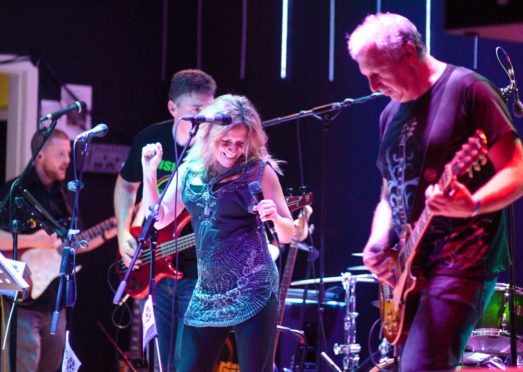 Musicians from Moray are preparing to strut their stuff on a Speyside stage to help boost the fight against an incurable disease which claimed the life of a friend.
James Combe, from Craigellachie, was diagnosed with motor neurone disease in 2015 and died just a year later at the age of 49.
Now, friends of the music-lover are preparing to organise another fundraiser in his memory after coming together for what was supposed to be a one-off performance shortly after his diagnosis.
Last year's event raised more than £1,800 for MND Scotland with organisers attempting to raise a similar amount again.
Friends of Mr Combe will take to the stage in Rothes next month as part of The Fireflies with support from new five-piece band MacTa and talented youngsters who attend classes at Moray Music Lessons.
Organiser Mark Aldridge, who plays in The Fireflies, said: "We came together for a one-off show in Craigellachie at a special party for colleagues, friends and family of James after his diagnosis.
"We had so much fun that we've decided to keep it going and we are playing to raise money for charities.
"The idea though is not just to raise funds for MND Scotland but also to provide a platform for young, up-and-coming musicians from the area.
"So youngsters from Moray Music Lessons will open the gig to develop their talent by giving them the experience of performing in front of a live audience."
Motor neurone disease is a rapidly progressing terminal illness which stops signals from the brain reaching the muscles, which can cause patients to lose the ability to walk, talk, eat, drink or breathe unaided.
About 200 people are diagnosed every year in Scotland and there are currently more than 400 in the country living with the condition.
Iain McWhirter, head of fundraising at MND Scotland, paid tribute to organisers of the gig for helping to fund research into the disease.
He added: "We're grateful for the support of the local community in Moray and wish the organisers the very best in making this year's event as successful as the last."
The Rock for MND Scotland concert will be held in the Grant Hall in Rothes on Saturday, September 14. Doors open at 7.45pm.
Admission £10, entry by ticket only, available from Sound and Vision in Elgin, McColl's in Rothes, The Gather'n Cafe in Aberlour, L and C McBain in Dufftown and online at www.skiddle.com