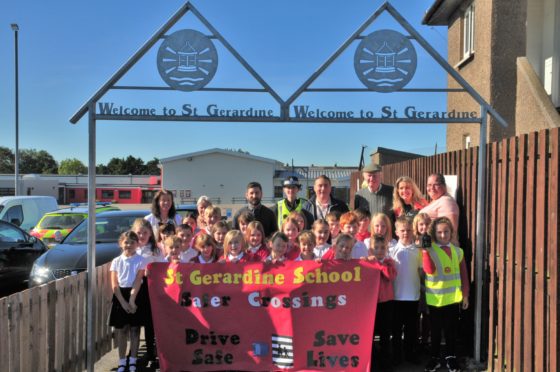 Pupils at a Moray primary school are poised to go head-to-head with speeding drivers in an attempt to reduce dangers outside the gates.
Concerns have been raised about the speed of traffic and illegal parking outside St Gerardine Primary School in Lossiemouth.
The town's community council has already launched a campaign to install traffic islands on the road to increase safety following fears about lollipop staff being axed.
And yesterday police joined school pupils to launch a new Safer Crossings initiative having run sessions with children to find creative ways to spread the warning message.
The campaign will involve P4 youngsters joining police on patrols before the students themselves educate drivers who have been seen ignoring rules.
Letters written by parents and pupils will also be sent to car owners who have been subject of complaints.
Constable Lisa MacIntyre said: "We want all children to be safe accessing the school and we hope this work will have a greater impact and see real improvements in driving practises around the school."
Head teacher Stephanie Gibson added: "We are delighted to be part of this initiative. We actively encourage our children, parents and carers to walk to school so it's important they are able to access it safely."
Carolle Ralph, vice-chairwoman of Lossiemouth Community Council, said: "I think it's a fantastic idea. The children can set such a positive example for the community to follow.
"The fact the pupils are doing it too will hopefully push home the message too about how vulnerable the children are who have to cross the road there."