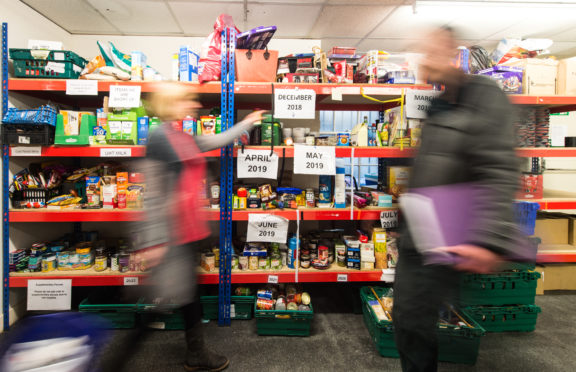 Referrals to a north-east food bank have soared to their highest levels – with an increasing amount of people in work seeking aid.
Moray Food Plus has revealed its usage figures for the six months between April and September – showing referrals have increased by 57% to 1,132 from the same time last year and the total amount of people supported has increased by 74% to 2,470.
Yesterday the continuing rise was described as "devastating" and "heart-breaking", although the community was praised for keeping pace with demand through more donations.
Mairi McCallum, project manager of Moray Food Plus, explained the group had been "exceedingly busy" since Christmas.
She said: "The wait for people to get their first Universal Credit payment is still having the biggest impact.
"We've also had a huge rise in self-referrals, people not going through support workers. Quite often these people are in work, predominantly part-time, yet with the cost of living they are struggling to make ends meet.
"We're the place of last resort, they've usually tried family and friends by the time they come to us.
"Usually we just see people for a few weeks then we don't see them again, like with Universal Credit it's predominantly that wait for the first payment."
To cope with rising demand the charity has established a range of preventative initiatives including community meals in Buckie, Lhanbryde and Forres among other places, lunch clubs in Elgin and groups to provide meals for children during school holidays with 300 expected to attend sessions this year.
More than 20 food larder stores, which have been accessed more than 1,400 times during the last year, have also been set up to allow people to choose items they need the most.
Moray MSP Richard Lochhead described the local food bank as an "unfortunate necessity" of modern life.
He said: "People in and out of work in Moray are being pushed to the brink, to the point where people are skipping meals and turning to charity to feed their children.
"Increasing food bank use is not only a damning indictment of UK Government cuts, it's also sign that that the current welfare system is broken. People in Moray are being let down by a system that is supposed to support them – instead it is pushing them into poverty."