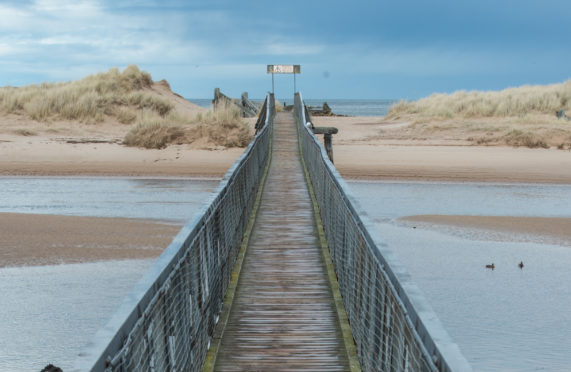 The project to replace a vital Moray footbridge sealed-off for months amid safety concerns could stretch to £1 milllion, it has been revealed.
Lossiemouth's East Beach crossing was closed in July due to fears the weight of sun-seekers striding to the sands could push it to the point of collapse.
Talks have been held over the past fortnight between local community groups, the Scottish Government – which has agreed to foot the bill for a new bridge – and Moray Council to plot the way forward for the replacement.
Estimates gathered by the Lossiemouth Community Development Trust, which has long-campaigned for the need to ensure access is retained to the beach, estimated a minimum of £500,000 would have to be spent.
However, it is now believed the final bill could be double that amount, with a "scoping report" due to be debated by councillors next month to progress preparations.
The loss of the bridge, and easy access to the popular sands in the town, had a catastrophic impact on businesses.
Graham Leadbitter, leader of Moray Council, said the recent talks had been "very positive".
He said: "It's definitely moved forward. The next stage will be a report to the council next month setting out what the council needs to commit to in order for the bridge to be built.
"We're talking about a project that will involve about £1 million of public money being spent.
"In order to do that there are a lot of details that need to be crossed off – as people would expect.
"There needs to be a clear picture for both the community and councillors of what that timeline is likely to be."
Equipment installed on the bridge by the Lossiemouth Community Development Trust counted 4,000 people using the bridge on Easter Friday alone this year.
Some businesses have reported that takings have halved since the crossing was forced to close.
The unusual situation of the 100-year-old wooden structure being legally ownerless has been blamed for it deteriorating to the point it was shut amid safety concerns.
No decision has been made about who will assume responsibility of any future crossing.
A spokesman for Lossiemouth Community Development Trust said: "If the submission to the council is approved in December then this will begin the progress pathway for the bridge project to commence.
"This is a complex project and each step will take time. We would like to thank the community for its continued support and patience with this very challenging task."