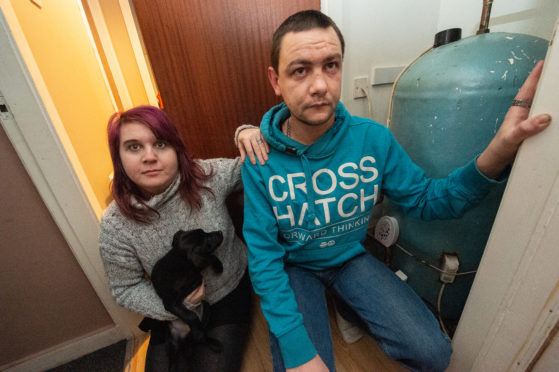 A Moray couple are living in fear of a freezing Christmas after waiting more than four months for a replacement boiler – despite being on an "urgent" list.
Stuart and Jewelz Wilson moved into the bungalow in Keith in July.
However, within weeks of moving into the Moray Council property the couple noticed a "vulgar" smell coming from the boiler before discovering water seeping from pipes.
Mr and Mrs Wilson say housing staff have visited their Den Crescent home three times and have consistently classed it as needing "urgent" repairs while wood in the cupboard appears to be rotting.
Yesterday Moray Council stressed repairs are carried out based on the priority of the issue while promising "significant" investment on boiler repairs next year amid mounting breakdowns.
Mr Wilson claimed the hot water is already inconsistent in the home while fearing that the heating could fail during winter.
He said: "The water is lukewarm at best at the moment, I'm just worried that it will stop working altogether at some point.
"We didn't notice the smell straightaway, it was maybe after a few weeks. It's horrible to live with all the time, it seems to get worse when the heating goes off.
"You can tell that water is leaking from the pipes. The floor around the boiler is all wet and you can see parts of the wall coming away."
Mrs Wilson added: "I'm starting to get worried about our health with the smell from it, you don't know what you're breathing in."
Within the last month Moray Council announced it was reducing its annual target for new-build to instead focus money on repairing its existing properties – blaming failing boilers as a principal reason.
The authority has revealed it currently has nine homes with condemned boilers with tenants being given temporary heaters instead.
Meanwhile, 150 unplanned boiler replacements have been carried out during 2019 with more being planned for next year if funding is secured.
A Moray Council spokeswoman said: "Housing repairs are carried out based on the priority level of the issue. We would liaise with the tenant directly on the confirmation and timing of a boiler replacement.
"We're looking to invest significantly in a boiler replacement programme next year."