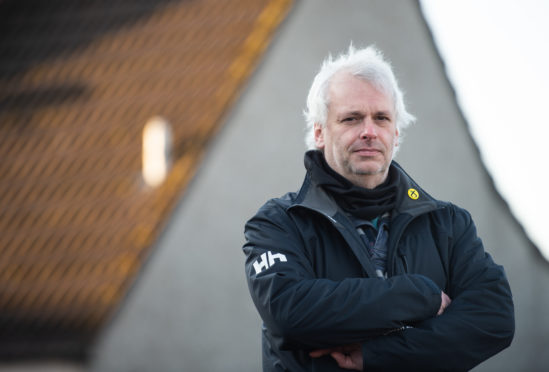 Housing firms could be forced to stump up more cash to build forthcoming projects in Moray after the council scrapped a cap on payments.
The cash-strapped authority previously had a £6,500 per house limit on developer contributions to help cover the extra strain on services including education, roads and healthcare.
Now the maximum fee has been binned amid concerns that the total was not providing enough money to fund the extra costs.
Moray Council previously asked for as much as £14,000 per property from firms before the cap was introduced two years ago to try and bring about the "highest quality developments".
However, the reduced limit has left the authority struggling to plug a financial gap to build and maintain infrastructure while budgets face a £10million reduction next year.
Yesterday David Bremner, chairman of the council's planning committee, said: "This isn't about pocketing money from housing firms, this is about us getting enough money to run quality services that people rightly expect."
He added: "It's all to do with a gap in funding. Every development brings pressures on infrastructure – whether it's on school places, dentistry or roads.
"All of that needs to be paid for and the £6,500 limit was leaving us with a substantial. It'll be looked at on a case-by-case basis now, which probably still won't cover everything, but it will help."
A payment of £5.6million was made by Springfield Properties last year as part of a huge project comprising 870 homes in the south of Elgin.
Meanwhile, Tesco paid more than £400,000 to support the town centre and community initiatives when it built its new store in Buckie.
However, the council had to hand back a separate payment of £168,000 to Springfield last year after it failed to use the money, which was initially intended to fund the aborted Western Link Road in Elgin, within the 15-year limit.
Neither Aberdeenshire, Glasgow City or Aberdeen City councils currently have a cap on the payments while Highland Council says it asks for up to £3,000 per home.
Moray Council's planning committee unanimously agreed to scrap the cap this week while also including single houses financed by private self-builders in the scheme for the first time.
A council spokesman said: "The council continues to bridge the gap to provide the necessary infrastructure as a result of the low level of developer obligations.
"By removing the cap, the number of viability claims will likely increase and the removal of the cap does not mean that the council will achieve the full cost of infrastructure, as each case will have to be treated on its merits.
"It is however likely that more than £6,500 per residential unit will be secured towards infrastructure requirements and the council`s contribution towards the cost of infrastructure will therefore be reduced."
The changes are expected to be introduced in summer next year.