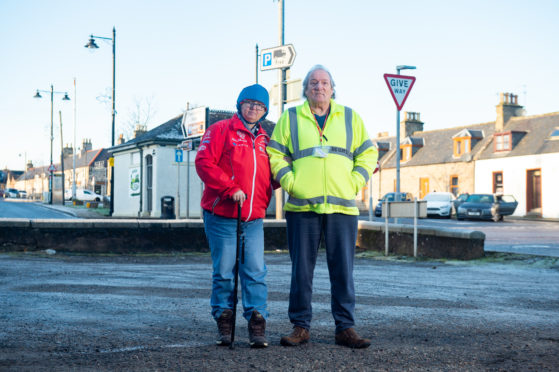 A Moray couple fear the car park outside their home has become a "rat run" bypass for vehicles trying to reach the A96 Aberdeen to Inverness road.
Stuart and Shona Robertson, from Keith, moved into their flat five months ago after relocating to the town from nearby Huntly.
However, the couple, who both suffer from health difficulties, have experienced two near-collisions since then as vehicles rush through the Moss Street car park to get to the main road.
Mr Robertson, 71, fears it is only a matter of time until a "major accident" amid concerns and called for the wall to the A96 to be sealed off.
Yesterday Bear Scotland supported the safety calls but stressed they were powerless to act due to the site being privately owned.
Retired joiner Mr Robertson, who underwent a triple heart bypass 12 years ago, said: "We've almost been knocked down twice by vehicles rushing across the car park.
"They are looking down Moss Street and then bombing up the road – they're just using it as a shortcut really instead of using the actual road.
"My wife has very bad balance and is disabled after suffering a fall. Rushing in and out of the home because you don't know what's coming isn't something we should have to deal with."
Mr Robertson has held talks with the letting agent to try and have the access sealed off.
He added: "It's right on the corner so it's a busy junction anyway with people heading into town. Working out who owns the car park has been tricky though."
Last night Bear Scotland backed the couple's calls and encouraged the wall bordering the A96 Moss Street to be blocked off to prevent vehicles using the route.
A spokeswoman said: "We're aware of the concerns around the private car-park being used to access the A96.
"We would support the closure of this access on to the A96 however as this is a private access and the issues are occurring on private ground it would be the decision of the property owner to restrict access and also carry out any works to close the gap in the wall.
"We've explained this to the residents and have advised them to raise the matter with the owners of the property to establish if this may be a possibility."