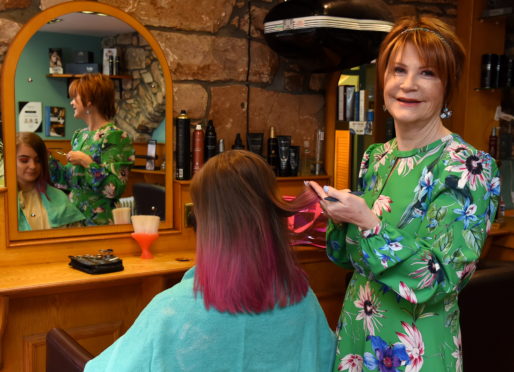 After decades of being passionate about hairdressing and Elgin's High Street, Fiona McCloud Angus will soon be hanging up her scissors and closing her town centre salon.
Beloved by many generations of customers who have loyally visited the salon, the Moray hairdresser will close the Fiona McCloud Angus salon on the high street and retire in the coming months.
Mrs McCloud Angus, 64, has been giving residents of the town glamorous hairdos for 35 years and her salon, which is situated at the east end of the High Street, will celebrate its 21st anniversary on February 3.
During these years, Mrs McCloud Angus has seen both the beauty industry and the high street boom.
The soon-to-be-retired hairdresser hopes the "thriving" town will continue to grow with independent businesses.
She said: "I think there is great potential for even more growth on Elgin High Street, it just needs to be more bespoke.
"I think these big units lying empty on the high street need to be broken down which will open them up for independent traders and young people to launch their business. People want to see you do well in Elgin."
Mrs McCloud Angus wants people to follow in her footsteps once her building is sold and see the positives of launching their careers in the Moray town.
She adds: "We need to encourage people to open their own businesses on our high street.
"I talk about it all the time, it doesn't matter how old you are as I didn't open this salon until I was in my 40s so it's never too late to try something new but there has to be opportunities for local people. Elgin doesn't need national names on our high street to thrive."
The salon's nearly  400-year-old building is full of character and still boasts all the original arches and timeless features.
When Mrs McCloud Angus set up shop over 20 years ago, she plunged her savings into transforming it into a welcoming and quirky salon whilst maintaining the building's characteristics.
She said: "Myself and I think many others in Elgin want to keep beautiful buildings like this and have a variety of shops on the High Street, we don't want to look like every other town and I think that is a draw in itself."
Mrs McCloud Angus has planned a special party at the salon to celebrate her business's upcoming 21st birthday.