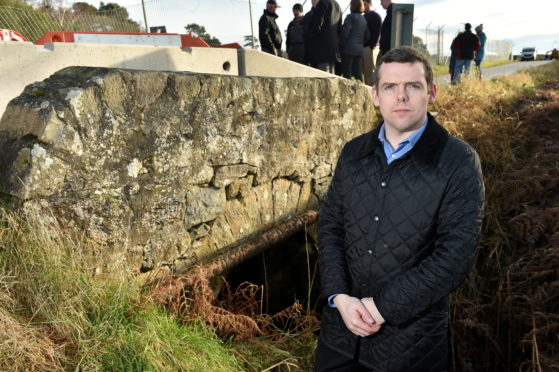 Moray villagers have been told to wait at least four years for a bridge to be repaired as the council can not afford the £120,000 cost of the work.
The Foths Burn Bridge, on the southern outskirts of Elgin, was sealed off amid safety concerns in November.
Engineers said there had been "significant, recent and active" movement on the stonework of the crossing that lies between the Glenlossie Distillery and Birnie Inn.
At the time, it was thought it may be closed only for a few months.
But Heldon Community Council, which has pleaded for it to be reopened, has been advised that it was not enough of a priority to warrant immediate repair.
And Moray Council has now said it won't have the cash available to return it to use until at least the 2024/25 financial year.
Moray MP, Douglas Ross, yesterday backed calls for the crossing to be fixed as about 40 locals turned out at the spot to make their voices heard.
Mr Ross said the turnout was "incredible" and emphasised how important the bridge was to the community, who he said "feel they are being ignored".
He said: "I think it's disrespectful to each and every one of you to put this off until 2024/2025."
The council has advised locals to use an alternative road 0.1 miles away.
However, Mr Ross called this "completely unsuitable" after residents told of how unsafe the single-lane road is, as the pothole-riddled road has quadrupled in traffic.
The Conservative politician said: "I want the council to consider alternative options and listen to the community and those within it."
A spokeswoman for Moray Council confirmed that an inspection indicated that Foths Burn Bridge was more corrupted than first thought.
The spokeswoman added: "Repairs are estimated to cost in the region of £120,000 and, as is the case with all bridge repairs, need to be prioritised to make best use of the council's budget.
"To put this in context, there are eight major bridge refurbishments being planned for the next two years – seven which provide sole access to homes, businesses and working farms, while the other carries the main A941 route between Dufftown and Aberdeenshire.
"These works are expected to cost in the region of £1.5 million and, if not carried out, could potentially cut off some communities.
"Given there are multiple diversions available to motorists in the Foths area, and very low traffic flow, these works are not being progressed in 2020/21 as originally anticipated."