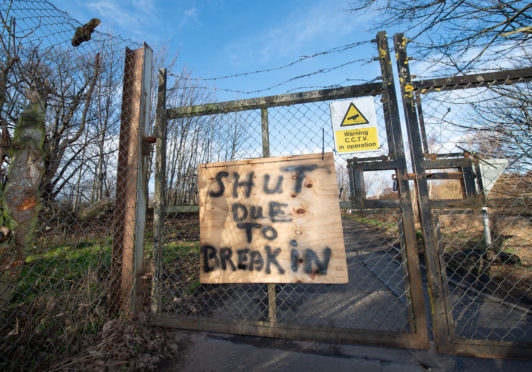 Vandals have broken into a Moray recycling centre and caused damage during a raid.
The Waterford depot in Forres remained closed to the public throughout yesterday as police carried out investigations following the break-in.
Last night officers were unable to provide further information on items stolen during the incident but issued an appeal for witnesses.
The break-in also affected charity Moray Waste Busters which aims to reduce waste going to landfill by diverting it and selling it.
The group operates from the same site and also remained closed all of yesterday.
Police suspect the break-in occurred between 3.20pm on Sunday and 6.45am yesterday and have encouraged anyone who was in the area at the time to come forward.
Inspector Keli McPhail said: "There has been some damage to the inside of the recycling centre as well as a number of items stolen.
"I am appealing to anyone who may have witnesses anything suspicious in the area overnight or in the early hours to get in contact with police.
"If anyone in the Forres community sees anything out of place when out late or early morning then please call us."
Bin lorries continued to visit the site yesterday despite the gates remaining closed to members of the public wanting to drop off items.
Moray Council expects the recycling centre to reopen as normal today. Moray Waste Busters also expect to be open again on the site.
Forres councillor George Alexander, who lives nearby, explained the depot had been targeted by thieves before but there had not been any need to shut it.
He said: "There's no money kept there anymore because of the break-ins that have happened previously.
"It's very well used, which makes it very disappointing that people have done this. It's caused a huge amount of inconvenience here because people have been turning up all day hoping to dump rubbish only to have to turn round."
Anyone with information should contact police by calling 101.