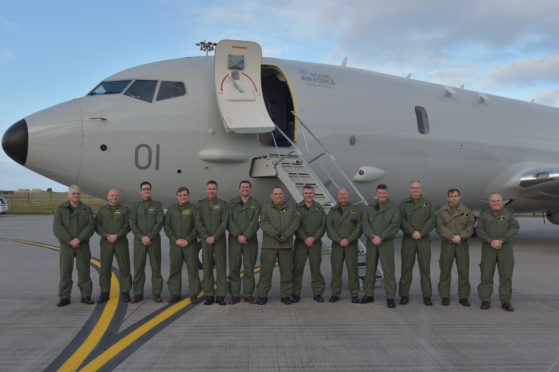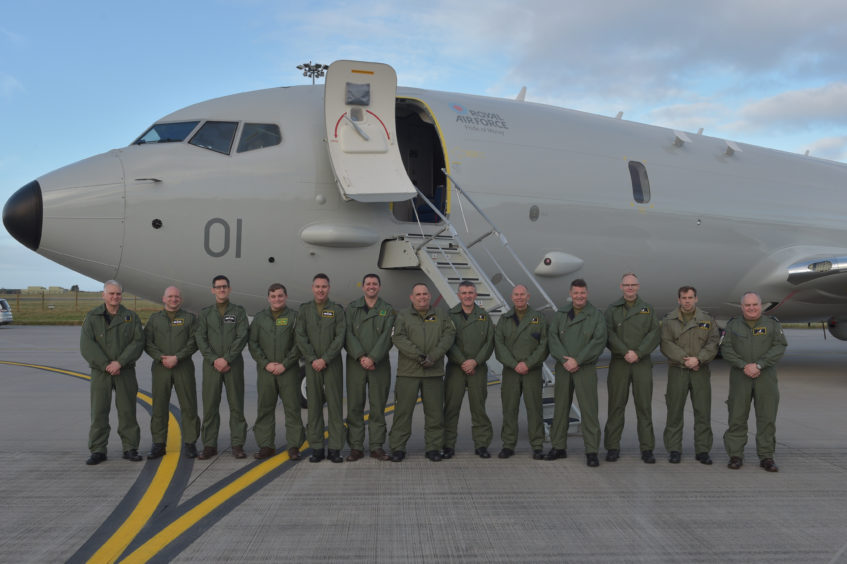 After nearly three years of preparations the first of the UK's new fleet of submarine-hunting spy planes touched down in Moray.
Pride of Moray, the first of the P-8 Poseidons to arrive, was flanked by Typhoon fighter jets as it approached its temporary home at Kinloss Barracks.
Pride of Moray, ZP801, has arrived at Kinloss pic.twitter.com/yzf1xZa9vI

— David Mackay (@DaveFeatures) February 4, 2020
Yesterday, the arrival was hailed as "game-changing" for the region with 500 extra personnel eventually due to be posted to RAF Lossiemouth – taking the base's compliment to more than 3,000.
Meanwhile, across the Atlantic the second Poseidon, christened City of Elgin, was also due to be delivered to UK crews stationed in Florida the same day.
Eventually nine of the aircraft, valued at a collective £3billion, will be tasked with patrolling the seas from the sky to track potential dangers lurking under the surface.
Major General Seymour Monro, the Lord Lieutenant of Moray, was among the first to welcome the crews during a piper salute of Scotland the Brave.
He said: "It's a historic day for the UK and Moray. Seeing these tremendous aircraft flying overhead will become the new normal for us all.
"It's tremendous to have the crews, and in time, their families here too. The military contributes so much to Moray and, of course, we will benefit from having them here, like the contractors now building the new home for these fantastic aircraft."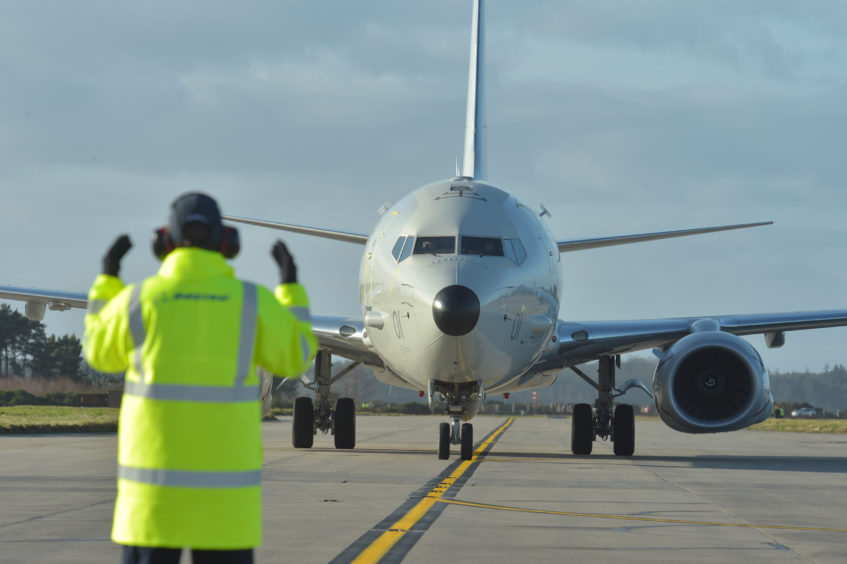 The Poseidon fleet is expected to be based at Kinloss until October while a £75million project to resurface the runway and taxiways is done at RAF Lossiemouth.
The revamp is part of a Military of Defence investment of nearly £500million in the base, including a new air traffic control tower, new personnel accommodation and upgraded drainage, also aimed at benefitting Typhoon jets on the UK's front line of defence.
Scotland Office minister Douglas Ross, who also serves as Moray MP, said: "This is a massive boost to Moray, bringing jobs and investment to the area, as well as an influx of more than 500 personnel supporting the P-8 squadrons who will be living and working here."
The new crews in Moray will begin drills next week to hone their skills flying the UK's newest defence aircraft.
Each plane will be equipped with 129 sonobuoys, which are dropped into the ocean and act as microphones to detect noises from submarines.
Wing Commander James Hanson, officer commanding 120 Squadron, explained his role was to turn newly skilled personnel into a "fighting unit" over the coming months.
The RAF's first P-8A Poseidon Maritime Patrol Aircraft just touched down at Kinloss in Moray. Find out more about these state-of-the-art aircraft 🛩️👇 pic.twitter.com/Avz26gALIK

— Ministry of Defence 🇬🇧 (@DefenceHQ) February 4, 2020
He said: "The initial cohort we have are hugely experienced. We've done that deliberately so that when we get young people in we can pass on that experience.
"The aircraft itself is extremely well connected. We can talk to commanders anywhere in the globe, whether they're on land, sea or airborne."
Moray MSP Richard Lochhead said: "The Pride of Moray's arrival is a welcome boost to the area, almost ten years on from the UK Government's heart-breaking and controversial decision to scrap the Nimrod as part of it defence cuts.
"I very much hope that this investment will also create plenty new civilian jobs and employment opportunities for local folk."
Arrival of new P-8 Poseidon fleet is homecoming for former Nimrod crews
The flight to land the first P-8 Poseidon in Moray was a homecoming for much of the crew on board.
Kinloss Barracks was home to the UK's previous Nimrod maritime patrol fleet, which flew out of the north-east base until it was scrapped in 2011.
Yesterday Squadron Leader Mark Faulds piloted Pride of Moray during its eight-hour fleet from Jacksonville in Florida.
During a previous posting the Ayrshire native flew Nimrod planes from the former RAF Kinloss before moving to the US to maintain his maritime patrol skills for the last seven years.
Now the instructor pilot has returned to Moray to train the next generation of crews to fly the P-8 Poseidon.
He said: "Coming back to Moray has been quite emotional. When we came in over Scotland the blue sky opened up and we could see Stornoway and over to the Highlands, it was something else."
Sqn Ldr Faulds added: "We've got two crews here now and we're going to start training them next week.
"It's a pretty capable aircraft at the cutting-edge of technology. It's got fantastic sensors and a long range as well.
"It's a great day for Moray, Scotland and the UK. We need a maritime patrol aircraft and here it is ready to go."
Construction has been underway on the £132million strategic facility, which will be home for the P-8 Poseidon fleet at RAF Lossiemouth for nearly two years.
Once complete the huge hangar will also provide a base for personnel as well as facilities to plan missions with new simulators due to be ready next year.
Group Captain Jim Walls, station commander at RAF Lossiemouth, said: "A lot of our people here love Moray. When the Nimrod left – they didn't.
"They bring years of experience to make sure we are able to deliver straight away."
'New Poseidon fleet means Russian submarines have nowhere to hide'
Military officials have warned Russian submarines now have "nowhere to hide" following the arrival of the UK's first P-8 Poseidon.
The Ministry of Defence has tracked Vladimir Putin's activity in the region increasing to Cold War levels in recent years.
Meanwhile, officials have also monitored China investing in new Arctic infrastructure and ice-capable ships.
Pride of Moray's mission will be to work with the eight other Poseidons to be based at RAF Lossiemouth as well as the US and Norway's own fleets to patrol the ocean with flights stretching as far as Greenland.
Armed Forces Minister Anne-Marie Trevelyan said: "The UK will not stand by if peace in the Arctic region is threatened.
"RAF Lossiemouth's strategic northerly location makes it one of the most important air stations in the UK – already home to half of the country's Typhoon force, and now sitting at the heart of our anti-submarine operations."
Air Chief Marshal Mike Wigston, Chief of the Air Staff, said: "The Poseidon is a game-changing maritime patrol aircraft. Russian submarines have nowhere to hide."
RAF Lossiemouth's Poseidon fleet will also be tasked with protecting the UK's own at-sea nuclear deterrent from potential enemy attacks.
Defence Minister Baroness Annabel Goldie described the aircraft as a "real development" in the country's military capabilities.
She said: "The world is changing globally, a lot of the challenges we used to face and are familiar with are perhaps historic now.
"We're entering new areas of challenge. There's a lot of interest in the high north and the Arctic area, it ranges from people with commercial interest to other powers with defence interests.
"We have to make sure we know what's happening so the UK and Scotland can be kept safe."