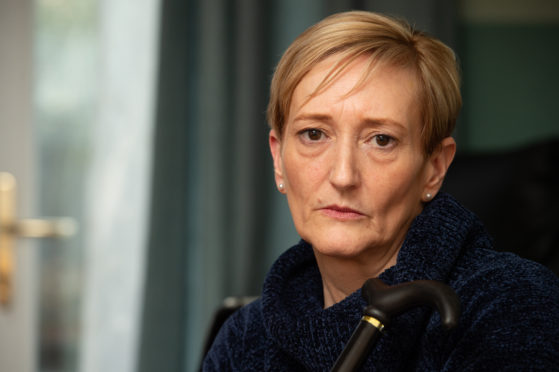 A north-east woman who spent more than a decade supporting some of the region's most vulnerable adults claims she has lost her job because her disabilities mean she cannot do it any more.
Rona Morgan, from Lossiemouth, was employed by Moray Council for 12 years as a community support worker.
However, she says changes made in 2017 made it impossible for her to fulfil the role without extreme pain amid fears for the safety of clients, who were adults with learning difficulties.
Moray Council has declined to comment about the case – saying it does not speak about individual staffing matters.
Mrs Morgan previously used her own car to visit clients in Buckie, Forres, Elgin and Lhanbryde to take them on errands to shops and elsewhere.
The 55-year-old was able to continue in the role following back surgery and the diagnoses of severe arthritis in her spine – with changes made to accommodate her not being able to stand for long periods or walk long distances.
However, she says a rule change in 2017 which forced staff to take clients on buses or in taxis instead left her in "extreme pain".
Mrs Morgan said: "At first I persevered but after a particularly bad day I came home extremely upset. I had to sit on the floor of large shop while waiting in a queue because it was taking a long time – it was extremely embarrassing.
"I had all these health problems going on and they just left me to work in a lot of pain.
"I tried to explain it wasn't working. I was worried about my clients too. Due to their needs I really needed to have all my attention on them and what they were doing – but I was finding I also had to think about my own needs too."
Mrs Morgan says a series of capability hearings were held with council management before a decision was taken to terminate her contract.
It is understood a mediation process remains underway.
She added: "I had problems that had previously been recognised by the council as part of the Disability at Work Act – then changes they made exacerbated my situation. I wouldn't have been off with this otherwise.
"I enjoyed my job, I worked with some people for many years. I wasn't even offered the chance to be redeployed to another job or anything."