A furniture firm criticised for a "ludicrous" £1,000 delivery charge to the north and north-east has insisted it would never deliver to the region – even if a customer paid the extortionate fee.
Online retailer Daal's Home was found to be adding the four-figure surcharge for orders from Elgin and the Highlands while delivering to Edinburgh for free.
Yesterday the Coventy-based firm defended its position, explaining it does not have the resources to ship to some locations.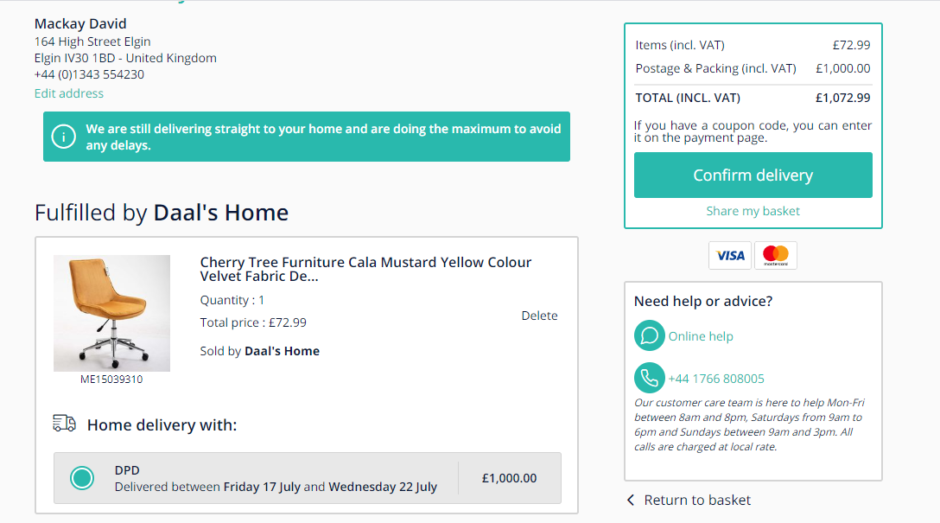 However, they stressed the temporary £1,000 fee was simply to "deter" orders from the north, stressing that even if a customer paid the money it would be refunded and cancelled.
The company added that it was not possible to "block" specific postcodes from placing orders.
Moray MSP Richard Lochhead, who has campaigned against excess delivery costs, wrote to Daals' Home to urge them to review the "ridiculous and hugely unfair" charge after it was highlighted to him by a resident wanting to buy a chair costing £75.99.
He said: "Companies should not be allowed to treat shoppers like this – businesses need to be upfront and transparent.
"Shoppers in Moray and across the north should keep naming and shaming businesses imposing unfair surcharges or that refuse to deliver to this part of the country.
"If a company is offering free mainland delivery, but can't offer that service to shoppers in Moray, then they should find a better courier."
Research carried out by the Scottish Parliament calculated that delivery surcharges cost Scottish residents £40million during 2019, an increase of 11% since 2017.
Daal's said they were working towards expanding their delivery area and finding a way to better display the locations they do ship to.
A spokesman said: "We are a small family-run company, we do not currently have the facilities to ship to certain locations.
"In addition, we are unable to apply a block to the postcodes we cannot deliver to.
"It is for this reason that we have, as a temporary measure, had to put a deliberately high delivery surcharge onto the affected items when ordered to the select postcodes to deter those from making a purchase only to be let down when the order is cancelled.
"We would never actually charge someone this for shipping."