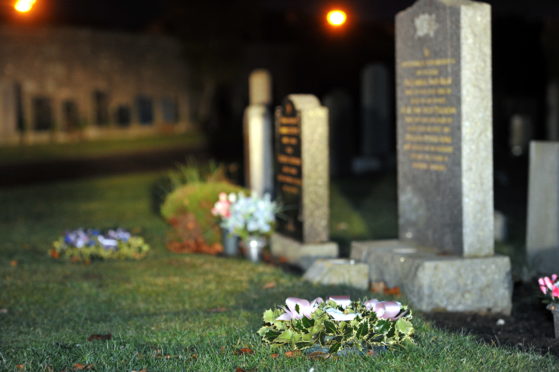 A pensioner has been charged with committing a four-year thieving spree from a Moray cemetery that left grieving families devastated.
Thefts have been reported from the Elgin graveyard for several years with treasured ornaments, festive wreaths and heartfelt tributes all going missing.
Yesterday police confirmed a 78-year-old woman has been arrested and charged with committing a "high number" of thefts from the cemetery stretching from this year to as far back as 2016.
Investigations and appeals for witnesses have been run during that time in attempt to catch the culprit.
However, until now, nobody has been charged in connection with any of the reported incidents that left families with sleepless nights anxious about whether items would be snatched from the final resting place of loved ones.
Extra lights have even been installed at the cemetery in an attempt to deter any would-be thieves from stealing or damaging items left by mourners.
It is understood that video footage has contributed to recent inquiries that have been made by officers.
Police also stepped up patrols in the Linkwood Road area in 2018 after receiving reports of the "harrowing" graveside thefts to try and provide comfort to mourners as well as maintaining a watch on the cemetery.
Constable Jamie Dey, a member of Elgin's community policing team, paid tribute to strength of those who have contributed to investigations.
He said: "I would like to thank members of the public who assisted us with our inquiries.
"This type of incident was particularly distressing for the relatives involved and I am glad that this inquiry has been brought to a conclusion for those concerned."
Anti-social behaviour has been an issue at the cemetery for more than a decade with separate incidents of spray-paint graffiti vandalism also reported to the police in recent years.
Police say a report will be submitted to the Procurator Fiscal.