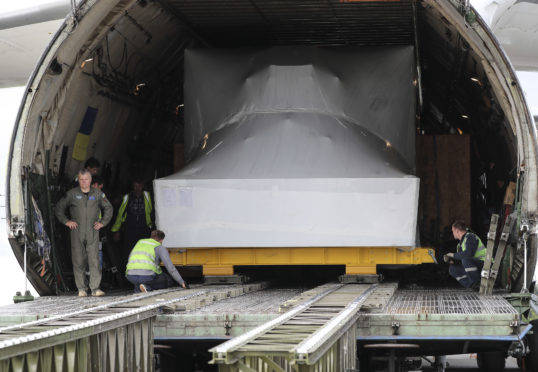 A simulator to train the next generation of submarine-hunting pilots in the north-east has arrived in Moray.
The huge specialist equipment, which weighs nearly 10 tonnes, was flown from Florida to Prestwick Airport by a giant Antonov An-124 cargo aircraft before being transported by road to RAF Lossiemouth.
The simulator is the first of two that will be installed in the £100 million facility being built by Boeing at the base, which will be the headquarters of the UK's P-8 Poseidon fleet.
The equipment, which includes a full-size cockpit replica, is so big it could not be flown across the Atlantic by any RAF aircraft.
And a crane had to be used to lift the simulator from the nosecone of the plane due to its weight.
Mark Corden, project manager for training in the Ministry of Defence's Poseidon delivery team, said: "The simulators provide training specifically for the pilots who will be flying the Poseidon fleet.
"It's an essential part of making sure the pilots are fully prepared to operate the new fleet of aircraft."
The first two aircraft of the RAF's Poseidon fleet have already arrived in Moray and are operating from Kinloss Barracks ahead of their move to RAF Lossiemouth later this year.