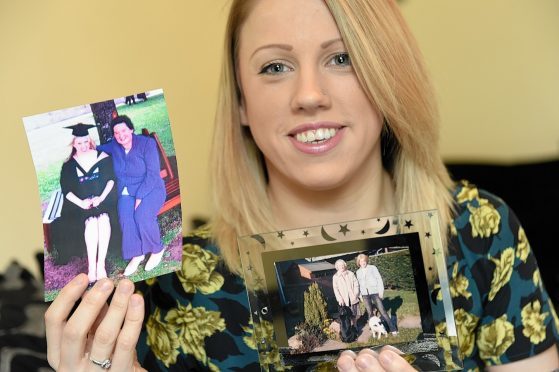 A Moray woman who lost both her mother and grandmother to cancer within months of each other is staging a charity ceilidh to raise funds to fight the disease and celebrate their lives.
Claire-Gillian Watt was 22 when her mum Agnes Watt and granny Lily Finlay died in 2011.
Now the 27-year-old has joined with friends and family to hold a charity bash in her hometown to keep the memories of both women alive.
The former Keith Grammar School pupil, who now works as a music teacher in Aberdeen, will collect cash for Cancer Research UK during the gathering at Keith's Royal British Legion hall on Friday, April 29.
She said: "April 29 is exactly five years since my mum died, and this seems like a nice way to celebrate her life.
"She was really bubbly and very much a people person, she always put everyone else before herself.
"Both she and my granny really supported my career in music, and the ceilidh is to thank them for that."
Miss Watt's mum was originally diagnosed with the breast cancer in 2004, and had battled the condition intermittently for seven years before it spread to her liver and bone marrow. She died aged 55.
Miss Watt said: "We knew mum's cancer was never going to be cured, but it became terminal very rapidly after it spread.
"I was in the middle of my teacher training at the time, but my mum said to me to continue on with my dream no matter what happened."
Mrs Watt, who was from Fife, became well-known in Moray as she helped husband Alistair run the family farm, and made many friends in Keith.
Many of those pals are planning to attend the ceilidh to pay tribute to her by sharing a few of their favourite stories.
Around the time that Mrs Watt's condition began to worsen, her own mother was diagnosed with a fast-acting form of cancer which affected her blood but was never formally diagnosed.
Miss Watt says she was "very close" with her granny, who was 83 when she succumbed to the condition at the start of 2011.
Ceilidh tickets are available from the Thingymijigs gift shop and Clarks pharmacy in Keith, and on the Skiddle website by searching for "Finlay ceilidh".