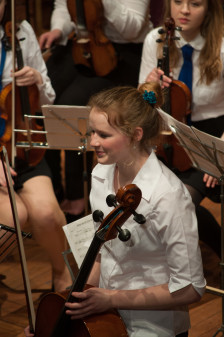 Three young Moray musicians will perform at one of the UK's most legendary concert venues after being picked to play as part of the National Youth Orchestra.
Former Forres Academy students Miriam Scott and Oliver Clark, and ex-Elgin Academy pupil Shannon Mustard, will take to the stage at the Royal Albert Hall in London as part of the Proms this summer.
Cellists Miss Scott and Mr Oliver, both 18, and 17-year-old violinist Miss Mustard honed their skills as part of Moray's Music Centre, and regularly performed in its annual concerts at Elgin Town Hall.
The Moray musicians will make the leap to the grand stage on Sunday, August 7, and the trio of teenagers are buzzing with excitement about the opportunity.
Yesterday, the region's education chiefs hailed their selection to play as part of the prestigious event as a "tremendous accolade".
Moray Council's Head of Instrumental Service, John Mustard, said the students should be very proud of their achievements.
He added: "The competition to be selected for the National Youth Orchestra of Scotland is very intense, so for Moray to have three of its young people selected is fantastic.
"They have worked very hard for a long time and deserve this opportunity."
The local authority's director of education and social care, Laurence Findlay, said: "This is a tremendous accolade for these young people, and for the Moray Music Centre.
"Everyone in Moray is very proud of them and wishes them well."
Since leaving their local secondary schools, Mr Oliver and Miss Mustard have continued their musical education.
Cellist Mr Oliver is fine-tuning his skills at St Mary's Music School in Edinburgh, while Miss Mustard is a student at Chetham's Music School in Manchester.
Miss Scott is studying languages at Glasgow University, but continues to pursue her passion for music as part of the Kelvin Ensemble, a student-run symphony orchestra.
The Promenade Concerts take place in venues across London from July 15th to September 10, the famous Last Night of the Proms.
The annual eight-week festival of classical and orchestral concerts was founded in 1895.