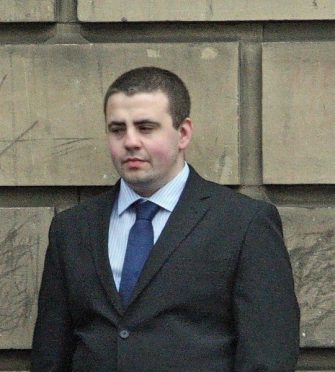 A rapist who targeted children and then accused his victims of telling "big lies" has been jailed for 11 years.
Steven Thain, 26, molested young girls over a 12-year period, starting when he was 13.
As a teenager, he served half of a three-year sentence – but continued his sex offending when he was freed.
Thain, of West High Street, Elgin, had denied a string of indecency, sexual assault and rape charges during a trial at the High Court in Edinburgh earlier this year, but was found guilty of eight charges.
Sentence was deferred to yesterday – when judge Lord Armstrong told Thain that he had no other option but to send him to prison.
The predator pulled one teenage victim into a house in Moray in 2010 and pushed her against a wall and raped her.
During the same year at a different address in the area he attacked another teenager and raped her.
Thain's offending continued until 2014 when he attacked a teenager at another house in Moray.
During the assault with intent to rape he offered her money to see her naked body and she was pushed on to a bed and punched and kicked.
His early victims when he himself was still a child were primary school aged and younger.
During the trial he told his defence counsel Gary Allan QC that he had "no idea" why victims told the court that they had been abused by him.
He said: "I didn't do anything wrong. I kept myself to myself. I have no idea why they've said those things."
Prosecution lawyer Ian Wallace asked him whether the women in the case had been lying and Thain replied: "Yes." The prosecutor said they must have told "big lies". Thain responded: "Yes, big lies."
Thain had been on bail but following his conviction was remanded in custody until yesterday.
At the end of the trial, Lord Armstrong told Thain that he was considering imposing an extended sentence, involving imprisonment followed by a period of supervision.
The judge called for a background report, including a risk assessment, to be prepared on him before sentencing.
Thain was placed on the sex offenders' register.