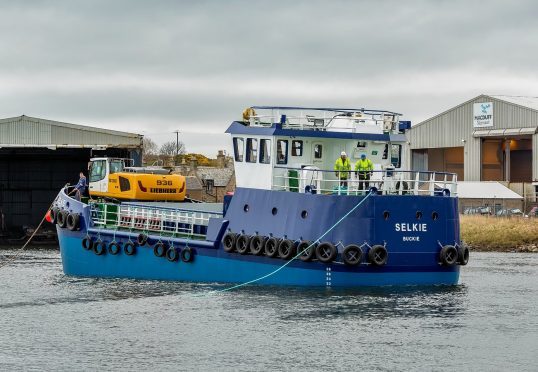 Youngsters from a Buckie primary school were given a special message from the Queen as they helped launch a £2.5million dredger.
The Selkie took to the sea yesterday afternoon after the Lord Lieutenant of Banffshire, Clare Russell, christened it.
Instead of the traditional champagne for the launching of new ships a bottle of whisky was used instead.
Before the ceremony Mrs Russell read a letter from the Queen sending her best wishes to everyone at the launch.
The Lord Lieutenant said: "I never thought a dredger could look beautiful but it did. I have never launched anything like that before so it was a very special one to do."
Children from Cluny Primary School, who named the vessel after a mythical Scottish seal that takes human form on land, were let out of class to be at the ceremony.
Pupils prepared stories about the legend for the special day. Findochty and Portknockie minister Dr Rev Hilary Smith also blessed the boat and crew.
The Selkie is now the only council-owned dredger in Scotland. The £2.5million boat was built by Buckie firm Macduff Shipyard.
Moray Council convener Allan Wright hailed the launch as a culmination of a work by the local authority after the Shearwater was sold for scrap
He said: "It's unique. It's going to be good for Moray and good for Buckie because it is a working harbour.
"We'll now be able to dredge the harbours ourselves. The development of Buckie Harbour remains one of the council's main priorities."
As well as being put to use by Moray Council, the Selkie will also be able to be rented out to dredge for other local authorities and private harbours.
Mr Wright is delighted the dredger will be able to make a contribution to the local authority recouping the money spent on it.
He said: "I'm quietly confident that it will be self-sustaining. It saves us money from hiring a dredger and it allows us to bid for work at other harbours along the Scottish coast."