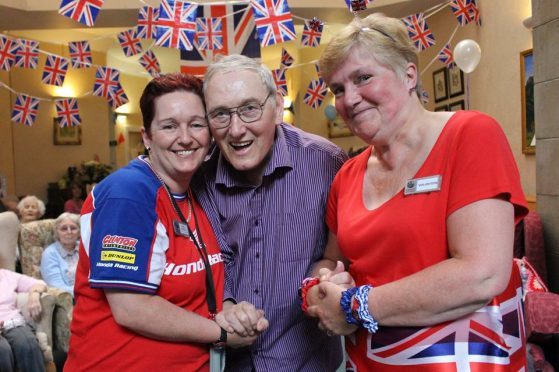 A group of Moray pensioners decorated their nursing home in union flags as they marked the Queen's 90th birthday with a special "indoor street party".
Anderson's Care Home in Elgin was transformed into a hive of activity during the celebrations, while residents made the most of the occasion.
In addition to commemorating the Queen's official 90th birthday festivities, and the Duke of Edinburgh's 95th, the party celebrated Anderson resident Ann Paton turning 86.
The thrilled octogenarian was given centre stage during the good-natured gathering.
Organisers spared no effort in festooning the building's main hall with union flags and red, white and blue balloons.
They even had a life-sized cardboard cut-out of Her Majesty present to lend the proceedings a regal touch.
The party began with a hot buffet lunch, followed by a specially prepared cake with layers of sponge coloured red, white and blue.
Residents then enjoyed a show from a tribute performer who impersonated the unique moves and vocal inflections of Elvis Presley.
Singer Gary Aaron took time to interact with many of the residents, and sang "Happy Birthday" to an overjoyed Ms Paton.
The residents reeled back the years as they danced across the building's main hall during the concert.
Home manager at Anderson's, Kathy McGrath-Gunn, was delighted the day brought families together.
She said: "It was absolutely wonderful and we were thrilled with how many friends and relatives came along to take part.
"Everyone had a great time celebrating the Queen's 90th, a lot of the residents are very big supporters of the royals."
Meanwhile, Findhorn residents turned out in force at a birthday celebration in the coastal village's James Milne Institute.
Wet weather dashed initial plans to hold the function at the picturesque Findhorn Bay, but organisers said the conditions failed to dampen the spirits of those who attended.
The party was arranged by the Findhorn Residents Association, and group secretary Brenda McLean confirmed that villagers of all ages enjoyed the fun on Saturday afternoon.
She added: "It went tremendously well, we had a lot of nice food and a local guitarist, Neil Robertson, played music suited to all tastes.
"Everyone, from tots to people in their 80s, had a great time."