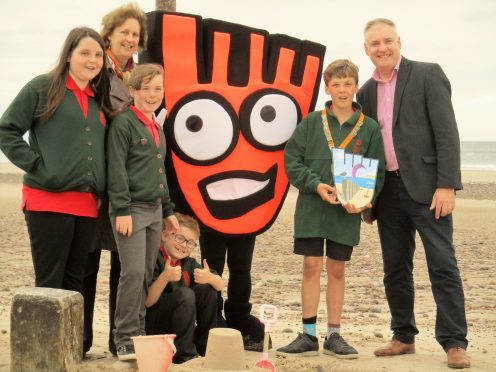 A Kinloss school pupil's picture of a picturesque Moray beach will front a national campaign aimed at keeping children active.
More than 500,000 copies of Sam Robbins' drawing of a seagull, kite and a spade at Findhorn on a summer's day will be recreated using recycled yoghurt pots.
The design will now be used to made into a badge from recycled yoghurt pots to be used in the Wow campaign, which aims to get pupils to walk to school once a week.
Sam said: "I have drawn the beach because it has lots of wildlife."
Kinloss School has already been active in promoting children getting to school in healthy ways. More than three quarters of the pupils regularly walk, cycle or use a scooter to get to class.
Teachers believe that children that are active in the mornings are more alert in the classroom and more ready to learn.
Moray MSP Richard Lochhead said: "This is a fantastic winning design that captures the colours and beauty of the Moray coast.
"It's great that a pupil at Kinloss Primary, a school that has done so much to promote healthy, active travel, has won this prestigious Walk to School design competition."
Sam's winning design was chosen as one of 11 winners from more than 1,000 finalists from over 340 schools by Living Streets Scotland.
Chris Thompson, schools coordinator at the project, said: "We received some fantastic drawings ranging from local landmarks to hidden treasures and neighbourhood heroes. Every entry reflected the creativity and passion shown by the children for their local area."