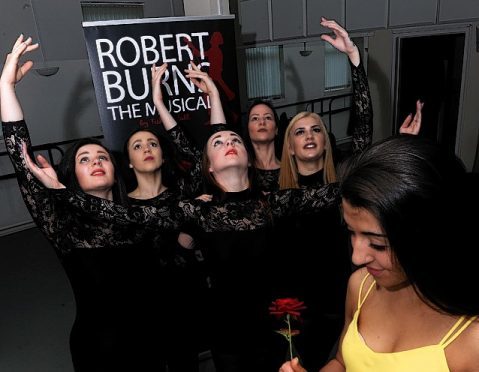 Hundreds of musical fans packed into Elgin Town Hall at the weekend to take in a rousing production honouring Scotland's national bard.
The Lossiemouth-based Rock Academy performing arts school has been honing Robert Burns The Musical at venues across Scotland for the past two years, and Saturday's performance was referred to as a "homecoming" for the lavish show.
The audience was piped into the venue in advance of the curtain rising at 7.30pm.
The musical, which is set in contemporary times, imagines how Robert Burns would have coped with the fame his way with words bestowed upon him in today's world.
The show's cast, which is mainly comprised of young, local performers, received a thunderous standing ovation as the production drew to a close.
The show's writer and on-stage narrator, Tish Tindall, said she was "overwhelmed" by the positive reaction.
Ms Tindall said: "I've been performing in Elgin Town Hall for 20 years and I've never seen a response like it.
"I think the Moray audience is very proud of the show, this is its home."
The cast members will now join to record a soundtrack album, which will be sold at subsequent performances.
The musical was originally devised by pop legend Michael Jackson and his famous friend David Gest during the 1990s.
But that production never saw the light of day, and it was only in recent years that Mr Gest decided to revive and rework it after being put in touch with Rock Academy.
Prior to doors opening, Ms Tindall performed a private preview of a one-woman show she has prepared for the upcoming Edinburgh Fringe Festival, documenting the musical's unlikely journey "from LA to Lossie".