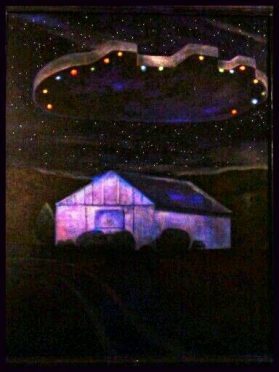 A Moray artist inspired by the region's unsuccessful bid to secure the UK's first ever spaceport will showcase her work in Elgin this weekend.
Elaine R Smith became captivated by the area's quest to become home to a base for space travel at RAF Kinloss, or the Kinloss Army barracks.
When the plans were shot down late last year, she grew despondent that it seemed Moray would no longer offer a "gateway to the galaxy".
She is now unveiling an array of space and defence themed large oil paintings, which she created while the region was abuzz with excitement over the possibility of spacecraft taking off from the area.
Her exhibition, entitled "The Spaceport that Never Was", will run from Saturday until the end of the month, at Elgin Library.
The artist said: "I was inspired by the idea of the spaceport, I wanted to be part of it.
"I even wrote to Virgin, who are making the shuttles, asking if I could contribute some artwork for if they were to station them here.
"The idea that Moray could have become a gateway to the galaxy was something I found so exciting."
Her paintings include one showing a UFO hovering above the College of Roseisle, on the outskirts of Elgin.
Ms Smith was born in Bicester, in Oxfordshire, but was brought up and educated in Forres.
She took part in a two-year portfolio course at Moray College, and later attended at the Glasgow School of Art, where she
gained a BA (Hons) in fine art.