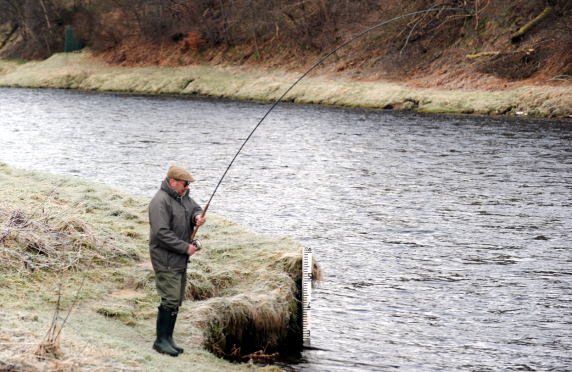 Salmon catches on the River Spey have leaped to an eight-year high.
Nearly 4,000 of the fish had been caught until the end of June – a jump of more than 1,000 from the same time last year.
A steady flow of water on the river through the season and more returns have been pinpointed as reasons behind the rise.
Anglers are now optimistic the boom could lead to visitors returning in future years after being encouraged with their catches.
Roger Knight, director of the Spey Fishery Board, said: "Following a period of lower catches, the situation picked-up significantly last year.
"This season's catches have boosted the morale and optimism for the future even more amongst the angling fraternity.
"We're aware how important the Spey is to the local economy for estates, hotels and other businesses. Increased catches will only encourage more anglers to return."
Between February and June 3,940 salmon were caught on the Spey, a jump from 2,860 last year. Despite the increase the amount of sea trout fell from 1,139 to 645 this year.
The pattern is repeated from 2008 when a bumper salmon haul was matched with a low trout catch.
The salmon boost comes just two years after the Spey recorded its lowest amount of catches in 60 years.
Gordon Young, president of the Fochabers Angling Assocaition, said conditions on the river were contributing to the surge.
He said: "There hasn't been a drought or a huge spate this year. The water level has suited our beat."
Mr Young explained the amount of catches seen so far could be the most there has been for over 20 years.
He said: "Our anglers have had a record season so far for the last few years. It will never get back to what it was like in the glory days of the 1980s or 1990s. We may even be at about double what we have had on average recently. It's been very good.
"Visitors who are fishing this year will have already booked so we won't see the impact of it just now – but if the fishing proves to become better then they will be more likely to come back with bookings in future years."