Moray Council's £2.5million dredger did not carry out a single job for four months.
The hulking vessel was launched at the beginning of April with high hopes that it would soon be completing badly-needed work at the authority's six ports.
Council bosses also predicted the 90ft craft, named the MV Selkie, would pay for itself when leased out to other authorities across the north.
But figures obtained by the Press and Journal, through freedom of information legislation, have revealed it has only left its berth in Buckie harbour on a handful of occasions.
Between April and the beginning of this month, it was put to work 45 times.
Buckie councillor, Gordon McDonald, said the publicly-owned machine's inactivity had been a source of growing "frustration" for the region's coastal communities.
However, Moray Council claimed that a staffing crisis meant it had no option but to leave the dredger idle for four months.
Now Mr McDonald has called for a "comprehensive report" on the dredger to review its service since it was built.
He said: "There's been a lot of frustration about it, it's something I've been asked more than anything else.
"We need to start getting the dredger into the smaller harbours where it's going to be working, so people can see it and get rid of the perception that it's been doing nothing."
The local authority argued the dredger would have undertaken more work had a crew member not resigned in August and prevented it from going to sea.
A spokesman said: "The vessel must have three crew on board to operate lawfully and safely.
"When the excavator operator unexpectedly resigned at the end of August, the two remaining crew volunteered to take annual leave while the post was filled."
Silt and sand has been allowed to accumulate in Moray's harbours since the council's previous dredger, MV Shearwater, was sold for scrap four years ago.
The Selkie is now fully staffed once again, and this week left its berth for the first time since the summer.
It was put to work at Findochty Harbour on Monday.
Coastal residents are now demanding it clear other local ports before being hired out to other authorities.
Chairman of Hopeman Boatowners Association, Phil Mowat, said: "It will be good to see it, because it is yet to prove itself in Hopeman.
"We're hoping to see it more now because we're expecting the service now the council has paid for it.
"It would be good to see local harbours being done first, though I understand there is a balance to be struck with commercial contracts to ensure it is earning money."
Mr McDonald added the winter period was the ideal time for the dredger to clear small harbours, as many crafts will be absent from their berths.
He said: "There's a window of opportunity now, with most of the boats out of the water, to get dredging done before the summer season.
"The priority for the dredger should be our own harbours.
"The taxpayers here have paid for it so they should expect the return first over the commercial customers."
Since April, the dredger has removed 3,000 tonnes of silt from the harbour in Buckie and more than 7,000 tonnes of sand from the port at Burghead.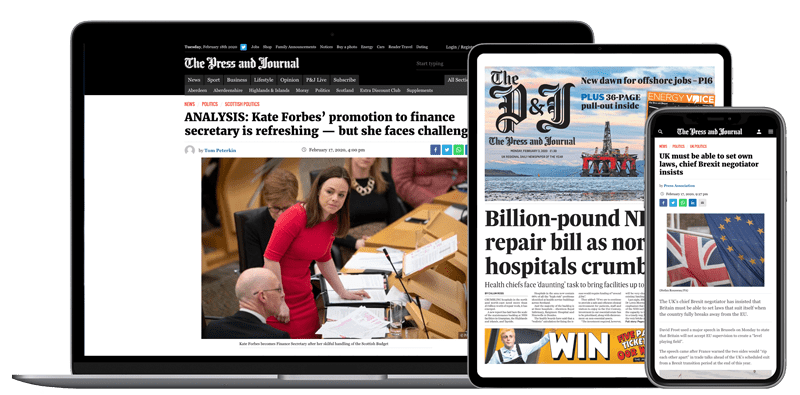 Help support quality local journalism … become a digital subscriber to The Press and Journal
For as little as £5.99 a month you can access all of our content, including Premium articles.
Subscribe