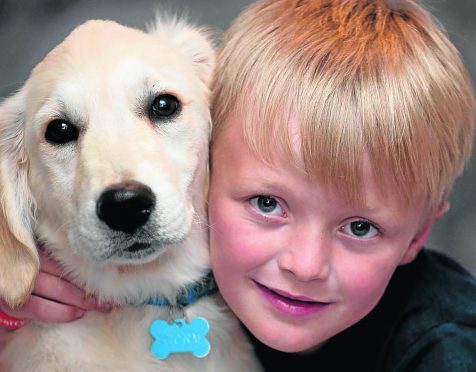 A golden retriever has become an unlikely medical ally for a Moray youngster who suffers from severe allergies.
Mason Hale, from Buckie, has formed an inseparable bond with Storm, who is in training to become his "medical dog".
The Millbank Primary School pupil is allergic to nuts, eggs, fish, oranges, avocado, soya and latex.
His special needs means his family have to plan holidays nearly a year in advance to ensure the six-year-old will not suffer a reaction.
However, his mother, Kelly, and father, David, will now have assistance from a friendly Storm.
The specialist dog, which is just six months old, is being trained to notice the slightest change in Mason's condition to ensure he can get treatment quicker.
Despite still being put through his paces, Mrs Hale revealed the pet has already raised the alarm.
She said: "Mason also suffers ulcerative colitis and was being sick through the night recently.
"Storm kept running from room to room until one of us took notice and realised that something was wrong."
Mrs Kelly added: "The two of them are really close, they go everywhere together now.
"When Mason goes to school in the morning, Storm will sit at the door and cry for about 10 minutes – and when we go to get him afterwards, he can't wait to get going."
Storm is expected to become a fully-qualified "medical dog" in May after completing training sessions in Glasgow and Aviemore with Mason.
The dog will be able to notice initial changes in the Buckie youngster's skin, breathing or voice that could suggest he is about to have an allergic reaction.
During the training, Mason and Storm will work to develop the "trigger" that will be used to alert those nearby about the potential medical emergency.
It means treatment from an epi-pen will be able to be administered sooner to stop the Millbank student going into anaphylactic shock.
Mrs Hale said: "We had a dog before and when he died, Mason took it very hard and we talked for a while about whether we would get another one.
"Storm has been brilliant. It means Mason has actually started to lead a normal life now because he has him there.
"He's able to go to football training and do other things that he hasn't been able to do until now."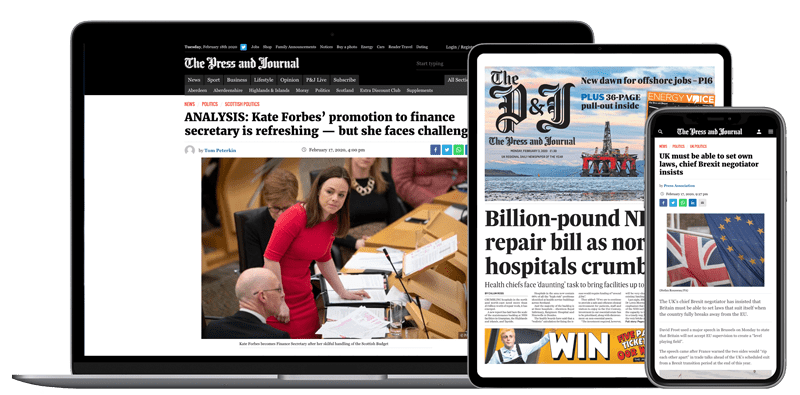 Help support quality local journalism … become a digital subscriber to The Press and Journal
For as little as £5.99 a month you can access all of our content, including Premium articles.
Subscribe