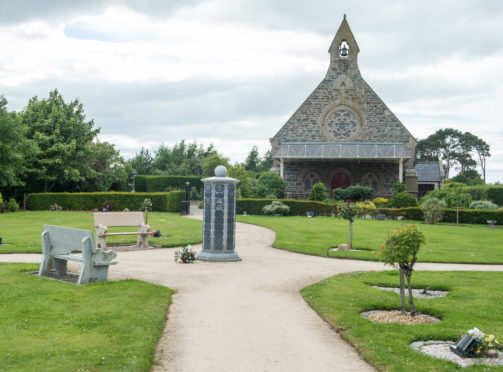 Moray mourners are being "exploited" for cremations due to a lack of choice in crematoriums, it was claimed yesterday.
Funeral services price comparison website Beyond has surveyed areas of the country where there only one choice for holding services for people who wish to have their ashes scattered.
The research has found that Moray Crematorium, in Broadley near Buckie, charges £1,070 per cremation – only nine other sites in the UK were found to be as expensive. The average price across the UK is £784.
Yesterday the investigators welcomed news that the Competition and Markets Authority (CMA) has already pledged to review the rising cost of funerals – which have more than doubled since 2004.
Meanwhile, the owners of Moray Crematorium, Dignity, have insisted their fee structure gives families a range of choices and stressed they remain below the market average on a price per minute basis.
Mourners in Moray were found to have the largest trip outside their home region to get a choice of venues.
The nearest crematoriums are nearly 30 miles away in Inverness from the west of the area with at least a 47-mile journey to Aberdeen from the east of the region.
James Dunn, co-founder of Beyond, said: "Mourners are being exploited and it is fantastic news that the CMA has launched its probe into this sector."
The CMA investigation will examine whether information provided by funeral directors is clear enough for people to choose the best option for them.
Prices in Moray were found to be on a par with Dundee, where customers face an 18-mile trip to the next nearest crematorium.
A spokesman for Dignity said: "People tell us the most important factor in organising a cremation is being able to make a booking that allows them sufficient time to pay their respects to loved ones.
"Our fee structure gives clients and their families a number of choices at different price levels.
"Compared on a price per minute basis, Dignity is cheaper than the majority of local authorities and cheaper than the market average."