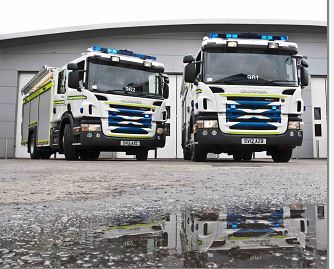 Firefighters in Moray have donated £9,000 to charity after running a series of fundraisers throughout the year.
Crews in Buckie ran open days and washed cars to raise the sum as well as the popular festive tour of the town.
The handover was the last for Watch Manager Dougie Annand, who will retire later this month after spearheading the station's charity efforts since 2006.
During that time, tens of thousands of pounds has been handed over to causes including the Fire Fighters Charity and the Scottish fire service's family support trust.
A special event was held in Mr Annand's honour to mark the last of the donations he has helped run.
He said: "Everyone coming together was very nice and it's definitely a lasting memory to have and to take away from my time with the Service.
"I wanted to sign off with one last charitable event and the station and local community has helped us achieve that."
Ian Findlay, the fire service's local senior officer for Aberdeenshire and Moray, added: "The commitment displayed by all at Buckie Fire Station to raise funds for charity is remarkable.
"Their sustained determination to help charities close to the heart of every fire fighter and local causes and people is something which deserves to be celebrated."