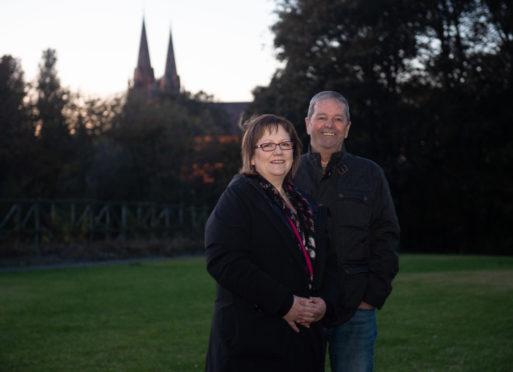 A neglected former rose garden in a Moray town is poised to be revitalised as an orchard.
The flower beds in the Queen Street park in Buckie were once popular among locals before falling into disuse.
However, now the same ground has been earmarked as a potential home for trees to grow apples in the area near Cluny Primary School and the town's secondary school.
Moray Council is spearheading the £20,000 initiative with money supplied by Tesco as part of planning conditions imposed when the new store was built.
Buckie councillors Sonya Warren, Gordon Cowie and Tim Eagle have backed the project in the hope the new orchard will become an asset to the community.
Mrs Warren said: "This site and project was one that was raised by members of the community a few times at recent events.
"It's fantastic to see it be developed and the former rose gardens be transformed into an attractive area. It will provide not only fruit but great learning benefits for young people at our local schools and the wider community."
Moray Council received a total of £406,000 from Tesco to support the community as part of the planning conditions of the supermarket to minimise the impact of the development.
Other projects have included a £175,000 town centre contribution that has funded the annual Christmas Kracker event as well as the festive lights, a new war memorial sculpture and a fishwife's heritage path.
Meanwhile, £125,000 has been used to subsidise local bus services, £61,800 was spent on new traffic lights at the High Street and Cathcart Street junction and £25,000 will be spent on installing a new gateway at the entrance to Buckie near the Tesco branch.
The £20,000 earmarked for the orchard was originally intended for a community woodland before instead being turned towards the rose garden project.
Comments can be submitted about the proposed design at an event at Buckie Thistle's function hall on November 13 between 4pm and 7pm.
Views can also be submitted by e-mail to localdevelopmentplan@moray.gov.uk The deadline for submissions is Friday, November 15.