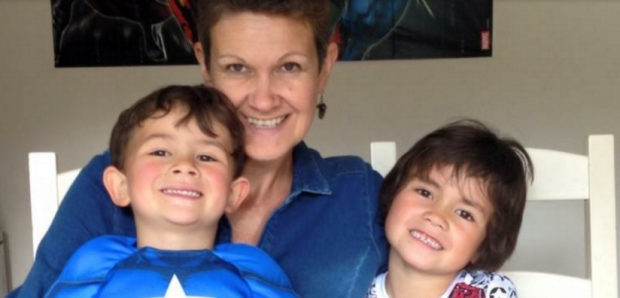 A cancer-stricken Moray mum who spent 20 years caring for the sick and dying has issued a desperate plea to the First Minister to be given a drug that could help extend her life.
NHS Scotland have said they will not pay for expensive medicine Kadcyla, which experts say could give Anne Maclean-Chang more time with her young sons Nathan and Ollie.
The drug is not currently approved for use by the Scottish Medicines Consortium and Anne, who was first diagnosed with Hodgkin's lymphoma in 2006, has seen her bid for an individual patient treatment request (IPTR) rejected.
Now the 46-year-old, who spent 20 years as a palliative care nurse caring for the sick and dying, has made a desperate plea to Nicola Sturgeon to help extend the lives of women in Scotland who might benefit from the drug.
In her letter to the First Minister, Anne wrote: "I have secondary breast cancer. Thanks to the decisions made by your NHS I am fighting to stay alive.
"My consultant in Edinburgh is one of the world's leading experts on breast cancer. He thinks I should be on Kadcyla. My health board cast aside his expertise and rejected an IPTR request.
"Your NHS has left me with no choice. My friends and family have been forced to crowdfund my cancer care.
"I am relying on the kindness of strangers. Some are holding bake sales so I can stay alive to see my husband and kids as long as possible.
"They have raised around £27,000. It's enough to start the treatment but I don't know what will happen when the money runs out."
She continued: "I have been a nurse for 20 years, caring for those at the end of their life.
"The truth is I feel this is no longer my health service. I don't recognise it any more. The principle of 'free at the point of need' has been lost.
"I feel that the postcode lottery in access to medicines through IPTR means the National Health Service isn't even national any more."
She added: "I am a patient in need. I am not a statistic, or a news story to be explained.
"I am a woman whose time and options are running out.
"What matters to me is living; spending the time I have left with my two boys, loving husband and wonderful family. Instead I am using that time battling bureaucracy and asking strangers for money to keep me alive.
"I don't want to die. I want to make memories with my family as long as I can. Help me live."
Kadycla, which costs around £5,000 per session and needs to be taken every three weeks, is not currently approved in Scotland despite being available on the NHS in England and Wales through their cancer drug fund.
NHS Grampian said: "We understand how difficult this must be for Ms Maclean-Chang and her family but unfortunately we cannot comment on individual cases."
Health Secretary Shona Robison told the Daily Record: "A diagnosis of cancer is devastating and my thoughts are with Mrs Maclean-Chang and her family.
"We've repeatedly called on the drug company behind Kadcyla to bring forward a new application as quickly as possible, and at a fair price, so that the drug can be routinely available in the NHS and people across Scotland can have the opportunity to benefit from more treatment options for breast cancer that could give them extra time with their families.
"There remains open the option for Mrs Maclean-Chang's clinician to make an appeal on the IPTR decision and I would encourage her team to take this route.
"We've dramatically increased access to new medicines, particularly for cancer, due to reforms in recent years but cases like that of Mrs Maclean-Chang underpin my desire to explore what more can be done.
"That's why we've commissioned Dr Brian Montgomery to review access to new medicines."
Anne recently launched a Just Giving page to help continue her treatment. The page can be found here.