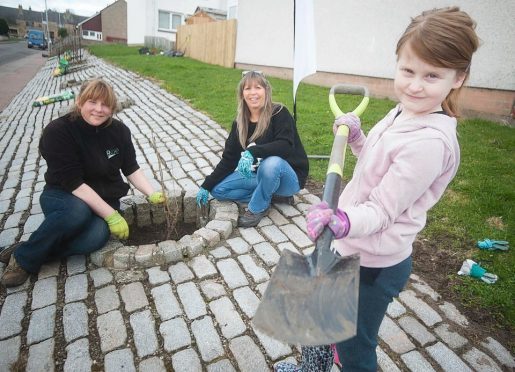 A group of Elgin youngsters spent the weekend planting fruit bushes in an effort to brighten up their community.
Children in the South Lesmurdie area joined forces to plant 80 gooseberry, blackcurrant and redcurrant bushes at Woodside Terrace on Saturday.
The project was overseen by volunteers from the Reap Scotland environmental charity, and the plants are expected to start producing fruit this summer.
Eight-year-old Saffron Montgomery, from Bishopmill Primary School, was among the first to arrive and eagerly dug out plots for the bushes.
Reap project worker, Dorothy Allan, last night heaped praise on Saffron and the other local children who got stuck in and offered some horticultural help.
Mrs Allan said: "Saffron lives locally and was keen to improve her neighbourhood, she was brilliant.
"The people in South Lesmurdie have been really proactive, they will be the ones looking after the bushes and so many have shown an interest.
"The plants are low-maintenance, so we don't think that will be a problem, but we hope that gardening activity will connect people.
"They don't have to be green-fingered, though we would like to think that this could spark a passion for gardening in some residents."
She added: "We have been all over Elgin with this project, and do talks at all of the primary schools.
"It's all about getting people outside and growing their own food, essentially."
The scheme has been paid for by the Scottish Government's Climate Challenge Fund grants programme.
Anyone who would like to find out more about Reap can call 01542 888070 or visit www.reapscotland.org.uk