One of Moray's most recognisable landmarks looks almost new again after a painstaking restoration.
Engraved lettering and stone carvings that were hidden under decades of soot can now be seen on Elgin's Muckle Cross.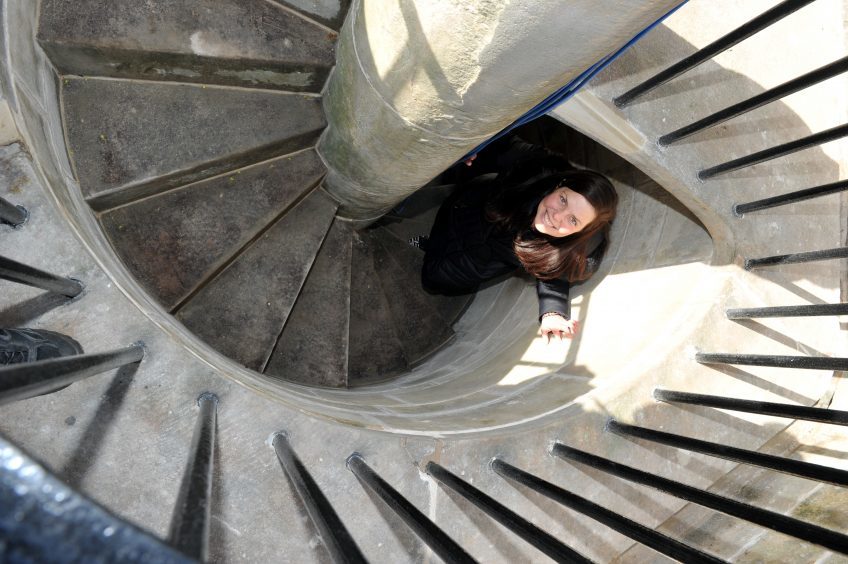 The 19th century monument has been shrouded in scaffolding and protective sheets for nearly two months during the £45,000 project to carry out urgent repairs.
Now it has been revealed in its full glory to those visiting The Plainstones.
Contractors Darroch and Allan have been using specialist equipment to rub off grime using a fine powder.
Yesterday Elgin Cars (conservation area regeneration scheme) officer Ellen Cox marvelled at the transformation.
She said: "It looks fabulous now. It really finishes off everything in the area with the new interpretation boards and statues.
"There's so much history on the Plainstones and the restored Muckle Cross really brings it all together."
The original cross was built in the 17th Century before being replaced by the current building in 1880.
Writing etched into the stonework, which can now be read again, reveals a former resident of the town, William MacAndrew, donated the money for the structure to be rebuilt.
Town criers used to climb the spiral staircases inside to make proclamations to residents.
The lion, which was stood at the top of the pillar, is too fragile to retake its position overlooking the High Street. Once a replacement is made the original will go on display in Elgin Museum.
Mrs Cox explained about 30 properties have already benefited from funding from the Cars project, including St Giles Church and Thunderton House. Work is due to take place on another 20 over the coming months with funding available for town centre buildings until March next year.
The project will soon get to work with Elgin's business improvement district to spruce up the High Street further by getting rid of overgrown vegetation from rooftops and gutters.
The Cars project funded the repairs to the Muckle Cross with support from the town's common good fund and Moray Council.
Contractor Graham Henderson added: "Because of the age of the stone we had to be very careful while we were doing the work.
"There's a lot less coal fires now and the emissions from cars are cleaner so it should stay clean for a lot longer than it did before."