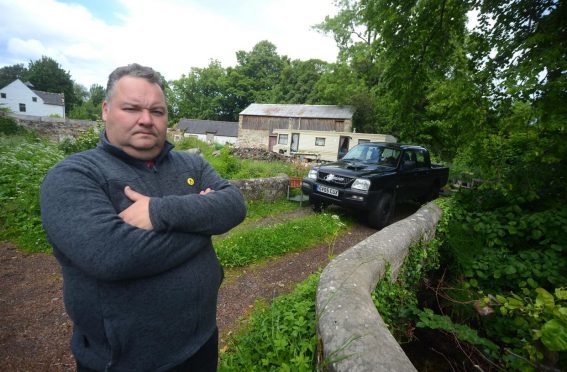 The owner of an historic Elgin mill has defiantly vowed to fight an order to get him to tidy his "dumping ground".
Patrick Thirkell has been locked in a wrangle over the state of the Old Mills with Moray Council for more than a decade.
Broken radiators, electric cookers, fridges, a caravan, toilet and baths are just some of the items littering the woodland site amongst a mound of burnt debris, trailer of scrap metal and a BMW almost completely smothered by grass.
Planners finally lost patience with him in November and ordered him to dispose of the rubbish.
Yesterday an appeal by Mr Thirkell was thrown out by the Scottish Government – giving him six weeks to clean up.
But last night the former RAF man, who lives in Hopeman, pledged to fight the decision in the courts claiming the mess is part of his vision to grow crops there and refurbish the mill.
Earlier this year, he was granted permission to build polytunnels on Old Mills Road as part of an initiative to fight the effect of winter blues.
The part-built scaffolding for Mr Thirkell's polytunnels project is not included in the clear-up order, but last night Mr Thirkell vowed to fight to keep the other items on his land too.
He said: "There has been a load of letters. They have been trying to shut this project for years. It's a worthwhile project.
"I am growing wasabi in Canada and will bring it to Scotland but only if I can get permission to grow crops on my registered farm – and if I can get some security.
"You would think jobs, mental health facilities and getting the mill to pay for itself would be wanted by the council."
The mill, which has roots dating back to the 13th century, has been owned by Mr Thirkell since 2002.
There have been demonstrations from locals protesting about the condition of the land.
The site has also been the scene of several fires in recent years, including in a blue double-decker bus that was used to grow mushrooms.
And last night Jo Stewart, whose home looks out onto the site, said she was so fed up with the situation she could even line up a potential buyer for the dilapidated grounds if Mr Thirkell was willing to sell.
She said: "It's such a distressing situation. We're hoping that this year something really will be done about it.
"I used to run a holiday cottage next door and it would be the first thing the guests see when they arrive. They thought it was such a shame to see it like that.
"It's been going on for 12 years and has been hugely upsetting for us. I don't know what you do though. The council have to keep going through the legislative process, at a huge cost. It's crazy."
Elgin City South councillor Graham Leadbitter believes the historic mill has "huge potential" if the debris is cleared.
He said: "The fact that such an important building for Elgin is lying largely disused with an eclectic mix of items strewn around it significantly detracts from the area.
"It's an ongoing concern and it's really disappointing to see it in that condition.
"The building's not in public ownership though so there's no easy way to fix that. I understand there can be significant costs improving buildings like that, which can be difficult to overcome. I hope a positive future can be found for it."
Scottish Government reporter Andrew Fleming concluded the debris had become a blight on "well maintained" nearby houses.
He said: "The council's photographs clearly show that the site is being used as a dumping ground for a wide range of materials, which do not lend themselves to this semi-rural location, close to residential properties and also containing a listed mill complex."
A Moray Council spokesman added: "We have been made aware that the appeal against the amenity notice has been dismissed."