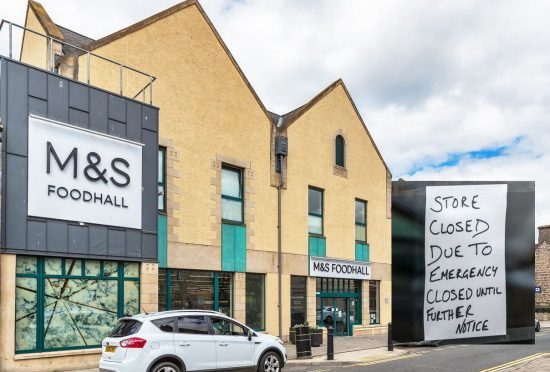 A Moray supermarket had to be evacuated after a fridge caught fire in a storeroom.
Smoke was seen billowing from the upper floors of the Marks and Spencer store in Elgin yesterday morning before fire crews arrived.
The High Street shop was immediately sealed off as firefighters raced inside to tackle the flames.
Last night, the firm confirmed that nobody was injured as a result of the incident and only minor damage had been caused.
The supermarket and its car park were sealed off while checks were done to ensure the fire had been contained and the flames were put out.
Employees put a sign on the doors leading into the food hall explaining that an "emergency" had resulted in the store being closed until further notice.
Open windows could be seen on the first floor to help ventilate the interior.
Two fire engines from Elgin pulled up at the store at about 10.30am yesterday following reports of smoke from the town centre site.
Four officers then went inside the building with breathing apparatus while using thermal cameras to aid their efforts to put out the fire
A fire spokeswoman said: "When we initially attended we treated it as a building fire. After investigations it was established it was actually a refrigeration unit that was on fire in the cold storage area.
"We used two fans, four breathing apparatus and a thermal imaging camera. We left the scene at 12.15pm."
Employees from the supermarket were posted at the entrances to the building to break the news to customers that the shop had been temporarily closed.
Yesterday an M&S spokeswoman confirmed that the shop reopened after about two hours.
She said: "Our Elgin store has now reopened. We're sorry for any inconvenience the short closure may have caused to customers."
A police spokeswoman added: "We were notified about the incident but we were not required to attend."