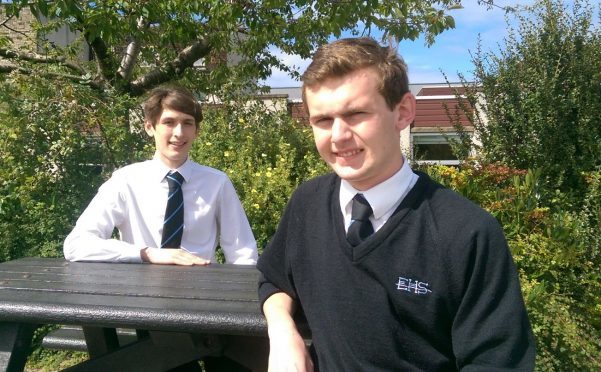 A Moray teenager has been inspired by the work of his grandmothers to pursue a career in medicine.
Elgin High School pupil Ciaran Barron was celebrating a perfect score of three advanced higher A grades yesterday – following five As at higher last year.
The 17-year-old is now due to start a course in medicine at Aberdeen University next month following the success.
Ciaran knew he had to ace his exams in chemistry and biology but also found maths to be a surprising passion.
He said: "Both my grannies were nurses so going into health care has always been something I wanted to do because it's challenging and I want to push myself.
"Accident and Emergency is where I want to go. I did work experience there at Dr Gray's last summer and loved the fast-pace environment."
Elgin High student Ryan Lanigan was one of 18 students in Moray celebrating five higher As.
And the 16-year-old is hopeful the marks will allow him to realise his dream of a career in physics.
He said: "I was nervous about my English result – I didn't think I had done too well in the second paper. It was great when I woke up and got the text with my results.
"Physics is what I'm mainly interested in. I like learning about how everything works and getting right down into the subatomic particles that make the world tick."
At Elgin Academy, 36% of students achieved three or more highers, compared with 34% at Forres Academy and 33% at Keith Grammar.
More students than ever before got three or more national five awards due to big increases at Elgin Academy and Lossiemouth High – both with 44% of pupils taking home at least three.
Moray Council's education director Laurence Findlay said: "Thanks must go to our teachers who, despite the ongoing shortages in our schools, make sure that our students are equipped as they can be for their exams."