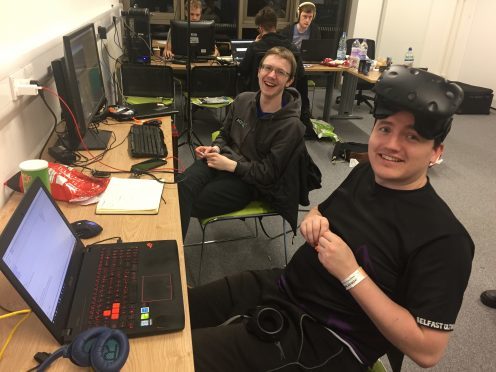 Dozens of game designers are poised to do battle in a marathon competition in Moray.
Teams of enthusiasts will meet for the Elgin competition next month, which involves the creative teams given a 48-hour deadline to devise and test a new product.
Nearly 100 people took part in last year's Moray Game Jam with many opting to sleep in the building to maximise crucial designing time.
Judges believe the ingenuity of the console and board game creators has the potential to reach millions of others.
Alan Yeats, who was part of last year's digital winning team, revealed his computer creation "Pocket Sized Guns" has gained recognition in the industry.
He said: "We've moved on quite a bit from last year. The game itself has been moved to other platforms, including the virtual reality Playstation, and has been demoed at Playstation development days, XpoNorth and other events around the country.
"The best part of the competition is being able to see people enjoy the game you have created and playing the other games that have been made over 48 hours."
The Moray College UHI event is organised by the venue with ScreenHI and Elgin-based games studio, Hunted Cow, with funding support from Highlands and Islands Enterprise.
Amanda Millen, director of ScreenHI, said: "Scotland is a major player in the world of games development, and, with companies such as Hunted Cow Studios in Elgin, there is a vibrant scene in the Highlands and Islands region."
This year's Moray Game Jam will begin at noon on Friday, March 16 and finish at 5pm on Sunday, March 18.