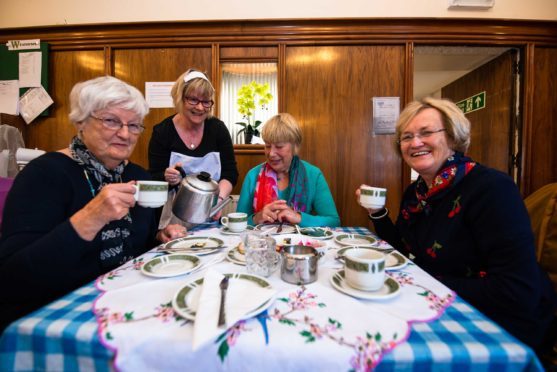 The bustling atmosphere of a much-loved Moray meeting place has been recreated, with crisp tablecloths and fine cutlery transporting it back to its glory days.
Nearly 200 people, including former staff and people who held their wedding receptions at the venue, packed the former Austin's Tea Rooms in Elgin at the weekend as part of Doors Open Day.
The eatery, which also featured a bakery shop, was a thriving hotspot for the community from the 1900s until it closed in the late 1960s.
In recent years the Academy Street building has become known as the home of the Elgin Bridge Centre, where players meet to play cards up to six days a week.
However, many of the original Art Nouveau fittings from the era and ornate wooden staircase still survive from its high tea heyday.
Edna Cameron, a board member of the Moray Society, said: "The Austin Tea Room was really the place to be seen in Elgin when it was open. Children were told to be on their best behaviour when they came.
"A lot of the original fittings, like the stained glass, are still here. Doors Open Day gives us an excellent opportunity to show them off again.
"It's been wonderful to see former employees of the tea room come back again as well as people who came to functions here. It shows it's still much-loved and remembered by the community."
Money raised from Saturday's event will be donated to Elgin Museum.