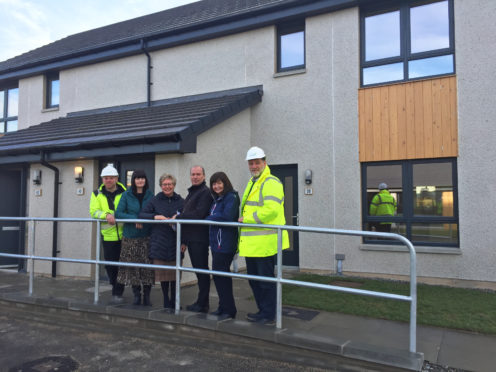 The first homes in a massive housing development in Moray have been completed.
Springfield Properties is expected to build 2,500 homes in Elgin over the next 20 years to help cater for the town's projected booming population.
Yesterday, the firm handed over the first homes to Moray Council as part of the development at the former driving range.
A mix of 21 two to four-bedroom affordable units have been built in the south of the town.
Over the next two decades, two new primary schools will open as part of the project as well as shops and a medical centre.
With about 3,500 applications on the waiting list for a council house in the area it is hoped the new homes will help cut the backlog.
Louise Laing, chairwoman of the authority's communities committee, said: "There is a particular shortage of affordable housing in Elgin so these will make a big difference to many households on our waiting list.
"These homes will be at the centre of the huge Elgin South development that over the coming years will lead to a new and vibrant community being built."
The blueprint for the huge expansion of the town was developed by both the council and Springfield and will also include a sports centre, which is due to open in the summer, and a cemetery.
Three village areas will be built over the next two decades entitled Glassgreen, Linkwood and Easter Linkwood.
Meanwhile, Springfield has also handed over a further 16 homes to Hanover Housing Association at Stonecrosshill in Elgin.
The development, which will include one-bedroom flats as well as three and four-bedroom houses, was initially rejected by the council following objections from locals before it was overturned by the Scottish Government due to the housing need in the area.
Tom Leggeat, managing director of Springfield Partnerships, said: "These further 37 affordable homes that help address Moray's affordable housing shortage.
"These projects are a prime example of how partnership working is delivering high quality, energy efficient homes that are a welcome addition to the supply of affordable housing across Scotland."
Adam Curry, Hanover's director of organisational services, said new developments in Moray was a "major focus" for the housing association.