Raymond Birnie has the best seat in the house, with his chair positioned for the ultimate vantage point.
He jokes that the extension to his modest home in Elgin was built solely so he can indulge his greatest passion in life – with his gaze firmly fixed on the garden.
A wooden attic houses his prize possessions, who give the game away with their gentle cooing.
"I check outside before I say good morning to my wife," says Raymond, with a broad grin.
As tradition would dictate, he followed his own father into the doos and even met his best friend thanks to a shared love of the sport.
"We're like Jack and Victor from Still Game," pipes up Rick Richards, who lives round the corner.
"But we do have a rule, we never call each other on race day."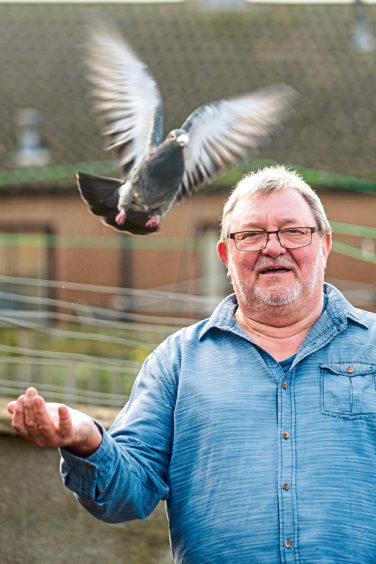 The pair are dedicated pigeon racers or fanciers, also known as doo men by fellow enthusiasts in Scotland.
They each keep 40-50 birds and are proud members of The Elgin and District Racing Pigeon Club, founded in 1946.
There is also The North of Scotland Federation, which boasts more than 100 fanciers in an area that stretches from Inverness to Peterhead and Fraserburgh.
Both Raymond and Rick fear the sport could be at risk of dying out, with the majority of enthusiasts "the wrong side of 50".
The hobby requires a huge amount of dedication, patience and even some nail biting when waiting for a bird to return home.
"Traditionally you followed your dad or granddad into the doos," explains Rick, who took up the sport with his grandad when he was a teenager.
"That route seems to be drying up because children are more interested in technology.
"It was pretty common back in the Seventies when I started out.
"I took a break when I joined the Air Force, but I've been pigeon racing for 25 years now.
"I actually met Raymond because my pigeon kept flying into his loft.
"I lived in Forres at the time and I had to keep coming through to Elgin to collect this bird.
"In the end he kept it; I think the pigeon was clearly trying to tell me that it preferred it here.
"The majority of people are only aware of pigeons in the town or at railway stations.
"They'll look dirty or have toes missing.
"Comparing that kind of pigeon to a racing pigeon is like comparing a stray dog or cat to a much-loved pet.
"It's up to us to keep our pigeons in peak physical condition, much like you would an athlete.
"So they are treated for disease; a racing pigeon is extremely well looked after.
"Some of them can get very excited to see you and fly on to your shoulder."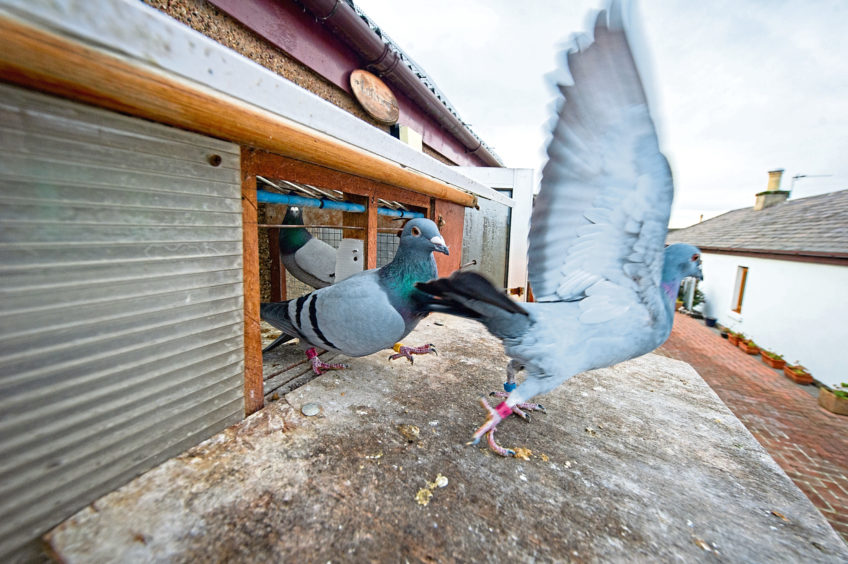 Both Raymond and Rick keep their birds in a loft, and the racing season kicks off in April.
Around 50 miles would be considered a short distance, but racing pigeons can travel as far as 700 miles.
Each race normally takes place on a Saturday, and the birds are collected by lorry and taken to the start point the night before.
It is then a competition of speed as to which bird arrives home first from release.
"Most pigeons will make an attempt to get home," adds Raymond.
"But not every single pigeon will finish.
"When the pigeons first come out the crate, they will form into a big bunch.
"How do they know where home is?
"The answer to that would be a scientific breakthrough.
"It's the same reason why swallows and ospreys come back to the same nesting place year after year.
"They just know where they live."
Whether a pigeon arrives home depends on several factors, and even the fittest of pigeons can fall victim to predators.
"Hawks and peregrine falcons are the main predators for pigeons," says Rick.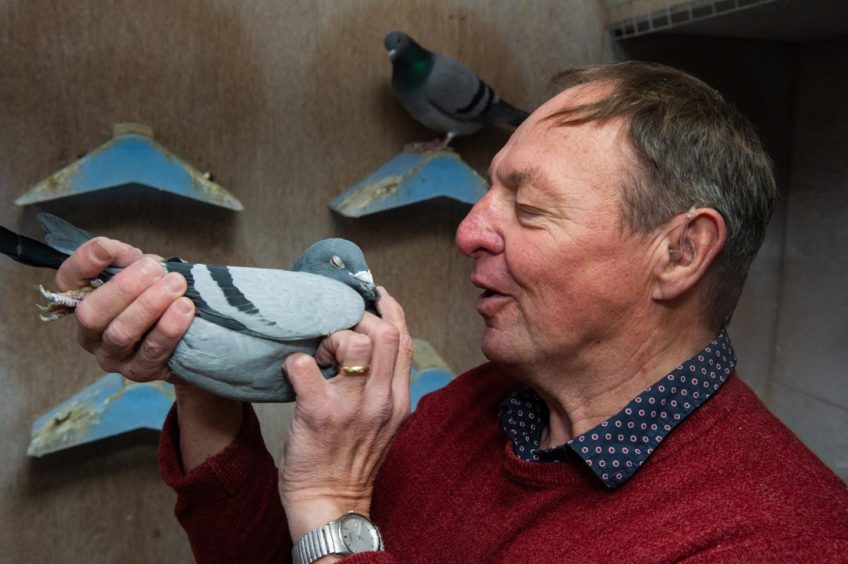 "If one of those goes through a flock, it is like a hand grenade going off in a supermarket.
"The flock scatters.
"Even if a hawk only kills one or two pigeons, others will be knocked off course.
"Pigeon racing is filled with disadvantages, and you can sometimes tell what kind of time a pigeon has had when it arrives home.
"One pigeon I had arrived home six weeks after release, I was just delighted to see it.
"You'd never condemn a pigeon for being late, you don't know what it has been through just to get back in one piece.
"You can tell it has given its all though."
Both Rick and Raymond always try to discover what motivates their pigeons to return home in the first place.
From providing tasty food to the right mate, each pigeon is different.
"Until you go down to the clubhouse, in your mind it is your pigeon who has won," says Raymond.
"It's the anticipation, that's why we don't phone each other on the day.
"Nothing can beat the feeling of seeing a pigeon come home.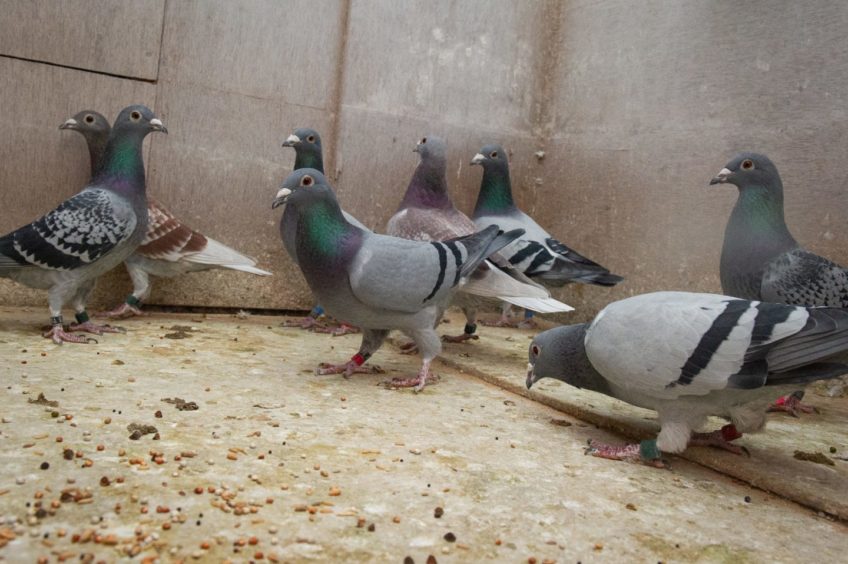 "If it comes having flown 500 miles and you see it swoop in, that can be amazing.
"If you have done your job right, you know your bird has done its best."