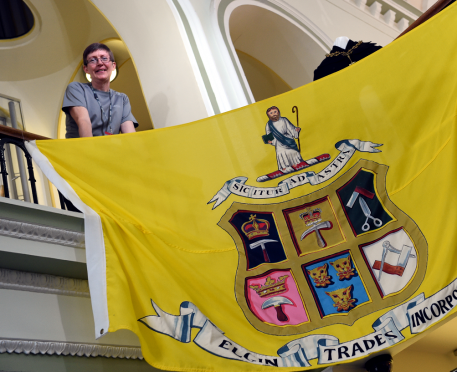 A glimpse through nearly 800 years of Elgin's trades' past has been put on display at the town's museum.
Relics from the Incorporated Trades of Elgin, dating back to the 13th century, provide an insight into how the area developed.
The group, which included tailors, glovers, squarewrights, hammermen, weavers and shoemakers were instrumental in the development of Elgin.
Museum volunteer Sara Marsh said: "Before the education act they started a school in the 19th century to teach reading, writing and arithmetic. They were very influential in the town council.
"The exhibition gives quite an insight into what was happening in Elgin at the time and the significance of it as a manufacturing centre."
Laying the first pavement in Elgin, lodging opposition to the slave trade and upgrading Lossiemouth harbour are among the group's most notable achievements.
The exhibition features banners, seals, aprons and photographs dating back to the Incorporated Trades' formation in 1268.
The group folded in 2014 and the last deacon convener, James Welsh, was instrumental in donating the items to the museum.
Mrs Welsh said: "These craftsmen were central to life in Elgin and the surrounding areas and realised early on how working in partnership could benefit all – whether improving their trading route with an upgrade to Lossiemouth harbour or funding the church and gaol."
The exhibition is at Elgin Museum until October 29.