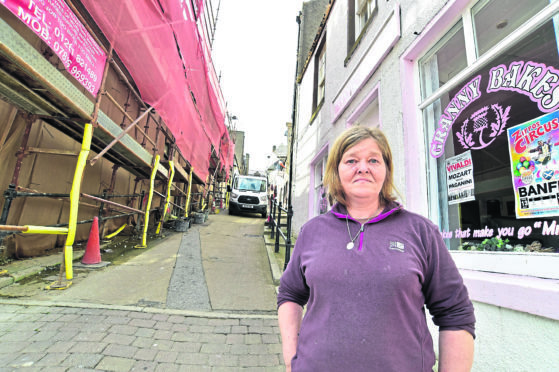 A Banff baker has suggested setting up a business group amid fears for the future of the town's high street.
Angela Wiseman was forced to move her cake business, Granny Bakes, out of her premises on Strait Path and into her kitchen at home due to ongoing renovation works across the road.
The Tolbooth Hotel is undergoing a revamp, which Mrs Wiseman claimed meant visitors were put off coming into her shop.
She fears other firms in the town are struggling to keep going.
Now she has suggested a business group could be set up to help firms who may be struggling – and warned that otherwise, Banff could become a "ghost town".
Mrs Wiseman said that she has had a number of Banff business owners contacting her to say they are closing up since she revealed her struggle in keeping Granny Bakes open during the works.
Mrs Wiseman it could turn Banff into a "ghost town".
She said: "I've had multiple Banff-based businesses get in touch sharing stories of how they are in the same boat, many taken the decision to close over the next few weeks.
"These are all folk who like us, shove in seriously long days for no personal gain because we truly believe in what we are trying to achieve, these are key places in Banff who when the doors close that ripple is going to be a big one.
"There's going to be yet more folk finding themselves out of work, more businesses finding they've lost good clients and customers finding they no longer have services locally.
"Tourists will find even fewer reasons to recommend the area as a tourist attraction less reason for folk to wander around in general will mean less potential customers for those that are still trying to keep going.
"The next few weeks may well see that straw breaking for a further number until there is nothing left but boarded up shop fronts, closed hotels and pubs, derelict garage services, and a ghost town strewn with takeaway packaging."
Last night, an Aberdeenshire Council spokesman backed the idea for a business group.
He said: "We would welcome the creation of a business forum or association in Banff.
"In our experience towns with a strong business forum or association are often best placed to collectively support one another and represent the high street to the council and other potential partners.
"We will happily provide the necessary advice and support if the businesses do come together to develop this proposal."