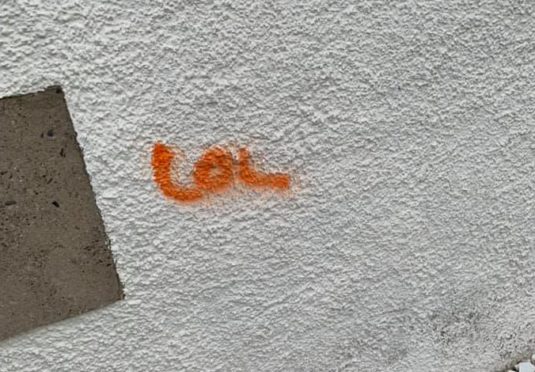 Vandals have targeted a house in Portsoy while the owners were out at the boat festival celebrating their birthdays.
The property on Links Road, near the Harbour, was spray-painted with the word "LOL" while the motor home in the driveway was damaged.
Tyler Simpson and her family had enjoyed the Scottish Traditional Boat Festival and been celebrating two birthdays over the weekend.
But after returning on Sunday evening, they found their motor home damaged and orange spray-paint on their house.
Police are now appealing for people with information about the "mindless vandalism" to come forward.
It is though the incident happened between 9am and 9.30pm on Sunday.
Miss Simpson, who turned 20 at the weekend while her mum marked her 50th, said the "lovely weekend" had been tarnished by the incident.
"We had been out walking the dogs before bed," she said.
"The first thing I noticed as we were getting closer to the house was bright orange paint on the white wall.
"There were foot prints and chips on the front bonnet (of the motor home).
"It was horrible. I couldn't believe it."
Since then the family have scrubbed the wall of the house so only a "light orange stain" remains.
The incident happened just hours after the annual boat festival in the town ended.
A spokeswoman for the organisers said: "The festival committee have been made aware of the mindless actions of a minority causing vandalism on Sunday evening.
"Whilst this can happen at any time it is particularly disappointing to follow on from a hugely successful event that brought thousands of people to our community."
Councillor Mike Roy said he was "surprised" by the news, and said there was no history of vandalism in Portsoy.
He said: "I deplore the fact this has happened and really hope this will never happen again and that the culprits are caught and appropriately punished."
Councillor Glen Reynolds added: "It is always sad to see isolated acts by a few that effect the joy of the many.
"We are fortunate that such incidents in Portsoy are rare and hopefully, those responsible will be quickly identified and brought to account."
Councillor John Cox added: "This is some mindless folk attempting to spoil a hugely successful weekend."
Officers are urging anyone with information to come forward by calling 101.
PC Ras Zubaj said: "Such mindless vandalism is completely unacceptable and won't be tolerated."