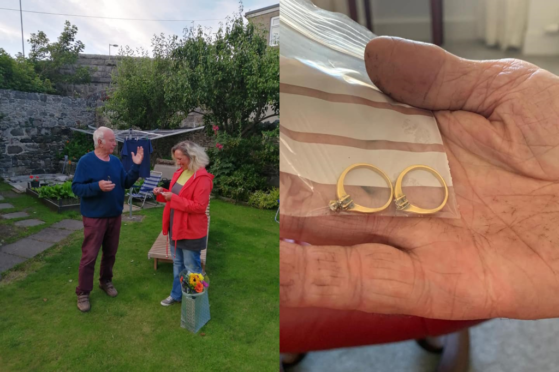 A north-east woman was reunited with her wedding and engagement rings just in time for her anniversary after a kind-hearted pensioner scoured the beach where they went missing with his metal detector.
Christine Mathieson, from Portsoy, lost both of the precious pieces of jewellery after an evening swim at the village beach last month.
The trinkets were bought while she and husband, Derek, were backpacking across New Zealand in 2002 and she feared they were lost forever to the sands.
With her 18th wedding anniversary looming, she launched a frantic search for the rings and even put up posters along the shore earlier this month so people would know what they looked like.
Local pensioner John Strachan, 81, took up the challenge of locating them using his trusty metal detector and made a few trips to the area they disappeared.
And just before the milestone date yesterday, he was able to tell Mrs Mathieson the good news that he had tracked them down.
The 44-year-old, who has a 10-year-old daughter and a 13-year-old son, last night relived the saga as she celebrated their safe return.
Mrs Mathieson said: "I was walking towards where I left my towel after the swim, I shook my hands and my rings went flying off."
In an effort to retrieve them, the childminder had to "work with the tide".
She said: "I set my alarm for 6.30am the following morning  and tried searching again but didn't have much luck.
"Before I went back to bed I put a post on a local Facebook page and lots of people commented wanting to help."
As time went on, Mrs Mathieson felt "more and more upset".
She said: "We got the rings while we were backpacking in New Zealand in 2002 so they're worth a lot sentimentally."
She made posters of what the rings looked like and it was then that she received a fateful offer of assistance.
She said: "We were approached by a gentleman who said he wanted to help us."
That man was 81-year-old John Strachan, who recently found the rings buried deep beneath the sand.
He said: "It would have been impossible to find the rings with the naked eye as they were buried 10 inches under the sand.
"I went down to the beach with my metal detector three times.
"I searched the area where Christine thought they might be and found them on my third attempt, on Saturday."
Mr Mathieson works offshore and had been in Oban last week, so Mrs Mathieson and the two children had travelled there to be with him.
It was when driving back home at the weekend that she received a phone call from Mr Strachan with the news she had longed to hear.
Mrs Mathieson said: "I was smiling from ear to ear, when I got that phone call. I was over the moon.
"I knew if anyone was going to find the rings, it would be that gent. He was so determined to find them for us."
The couple thanked Mr Strachan with a box of chocolates and a bouquet of flowers.
Mrs Mathieson added: "Our 18th wedding anniversary is August 10, we got married on a beach in the Cook Islands in 2002 and my rings were lost and found on a beach in Portsoy."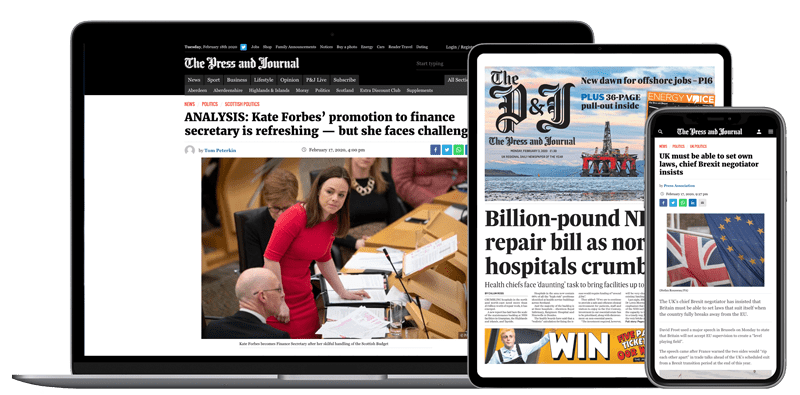 Help support quality local journalism … become a digital subscriber to The Press and Journal
For as little as £5.99 a month you can access all of our content, including Premium articles.
Subscribe