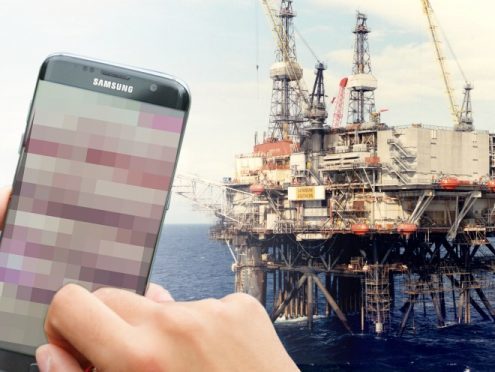 A woman took pictures of herself abusing a young boy – then sent them to a supervisor on a North Sea oil platform
Depraved Caroline Greig shared the images with Steven McLachlan as he worked on board the Ninian South installation 250 miles north-east of Aberdeen.
The duo are now facing lengthy prison sentences after admitting sexual assault and having indecent images of a child.
The pair – who were "living out a fantasy" – were remanded in custody after appearing at the High Court in Edinburgh yesterday.
The court heard that Greig, 47, carried out sex acts on the boy in October last year and took photographs before distributing them through social media.
Offshore shutdown supervisor McLachlan, 52, of New Pitsligo, near Fraserburgh, told police he was communicating with her and confirmed she was taking pictures and sending them to him via Facebook.
Advocate depute Tim Niven-Smith, prosecuting, said: "The accused (McLachlan) accepts he was privy to the fact that his encouragement led to Caroline Greig actually perpetrating sexual acts.
"The accused said that all images were sent via Facebook messenger and he had received the majority of them whilst he was working offshore."
Mr Niven-Smith said McLachlan had admitted they were both "equally to blame and they were acting out a sexual fantasy".
He said the pair had also shared pictures of themselves "in varying degrees of undress".
An indecent image of the boy with Greig – who also formerly worked in the offshore industry – was discovered after someone borrowed her phone to access the internet.
The handset was later seized by police and 57 indecent photos of the child were found, most of which also featured Greig, who had abused the boy at a house in Lothian.
Officers later went to McLachlan's home at Mid Glasslaw, New Pitsligo, and recovered his mobile phone.
Sexualised messages between him and Greig were found, which referred to the child victim and the existence of indecent photographs.
Mr Niven-Smith said no indecent child images were found on McLachlan's phone, but the tenor of messages meant it could easily be inferred that at some point he had received photos from Greig.
Mr Niven-Smith said: "During the course of the police interview he indicated that prior to October 2015 and his communications with Caroline Greig he had never before had sexual feelings towards children.
"The accused has never met or had physical contact with Caroline Greig."
He said it was understood McLachlan received 40 indecent child images, all taken by Greig.
Greig admitted the sexual assault and taking and distributing indecent child photos and McLachlan also admitted sexual assault and possession of indecent images.
McLachlan's counsel, Ian Duguid QC, said: "He is a 52-year-old man who has had well remunerated and good employment in the offshore oil industry and finds himself in a court for the first time.
"He came into contact with Caroline Greig through what is described as a friend request on Facebook."
He said the father-of-two, who runs his own company, was "extremely remorseful" and "disgusted" by his conduct.