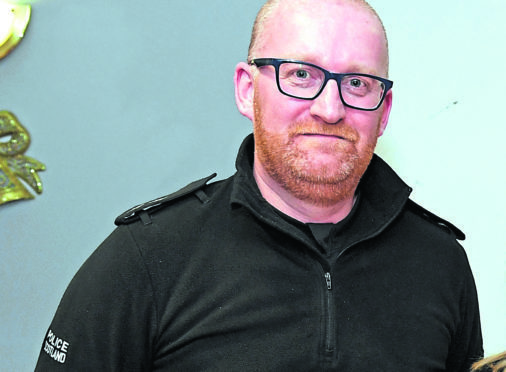 Antisocial behaviour has halved at a notorious spot in Peterhead town centre.
Police last night credited youth groups Circus Modo and the associated Encounter Youth Cafe for playing a significant role in the 46% reduction over the last two years.
In the past there have been problems with young people gathering in the town centre, primarily around Drummers Corner, to drink and hang around.
But two years ago, Circus Modo began hosting free weekly circus skill sessions and opened a cafe three nights a week to give young people something to do, and a safe place to meet.
North-east circus and youth workers unveil programme for 2017
Now Inspector George Cordiner, the who covers the Buchan area, has revealed crimes in that particular spot have reduced from 2015/16 to 2017/18.
In a letter supporting the group for funding, Insp Cordiner said: "As regards to antisocial behaviour they have reduced by 30% for the whole town centre and reduced by 46% in the Drummers Corner area in the same time period.
"I have no doubt that the work of Modo has been a significant contributor to this reduction.
"Their tireless work in Peterhead town centre has been a great benefit to Police Scotland in both demand and resourcing.
"Modo have been able to engage and divert a large number of young people away from antisocial behaviour which has had an overwhelming positive impact on the town centre."
Circus Modo holds workshops to build skills, confidence, teamwork, trust and communication for groups of all ages.
Creative director Martin Danziger said he was delighted that their work has helped build relations, cut crime and give young people – often from deprived backgrounds – something positive to do.
He said: "We've noticed an improvement in this area since we started and we're delighted it's so big.
"The reduction in antisocial behaviour is huge and Drummers Corner has greatly dropped off as a place to cause trouble.
"For a lot of people this is the only big open place they can get to so it's a sort of playground.
"There was a mix of bored teenagers with nothing to do and the town's most deprived hanging around the area. At the start of coming here (to Peterhead) I was calling the police regularly due to nasty fights. Now we've seen a big improvement and we're delighted.
"We came here, brought fun things to do like a basketball hoop and it's great because it's just positive fun stuff young people can engage with, let off steam with a watchful eye.
"We've formed relationships of trust and are often the only professional they can come to for advice, helps with applications, volunteering opportunities, food – we'll help as much as we can.
"We're delighted it's impacting community safety too."
John Pascoe, chairman of Rediscover Peterhead, said they work closely with various groups, including Modo, to make the town centre a more pleasant place for all.
"Modo are a high profile community group and who help give young adults a real chance and purpose, that they would not otherwise get.
"The spin-off seems to be a reduction in crime and nuisance in the town centre and that can only contribute to the overall improvement in the town."
Local councillor Anne Allan said: "I'm delighted that the crime level has reduced by so much.
"The drop is something we had hoped would happen when Modo started working in Drummers Corner.
"They provide alternative activities for young people, stretching their capabilities and imagination as well as giving something productive to do that they enjoy."
Peterhead North councillor Dianne Beagrie said: "It is great to read this and hear the impact Modo has made to the crime figures.
"Their contribution to the youth of the town is widely recognised and I look forward to this continuing."
Circus Modo sessions resume in the week beginning August 27, from 4pm-5.30pm on Tuesdays at Mintlaw Academy and 7pm-9pm on Thursdays at the Rescue Hall in Peterhead.