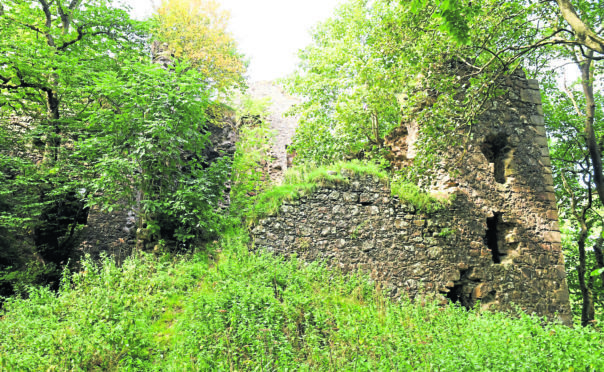 An environmental group has raised concerns about a historic castle on the Buchan coast being turned into a "midden".
Pick Up Peterhead has now appealed for volunteers to help them take on their biggest clean-up challenge yet – by clearing up the grounds of the ruins of Ravenscraig.
It was once a popular site for campers but has since been left in a state with rubbish left strewn along the grass.
One of the group organisers, Sean Martin, said: "The castle is a midden inside and out, the moat is filled with litter, the surroundings are clarted with rubbish – it's a big job.
A post on Facebook encouraging volunteers to help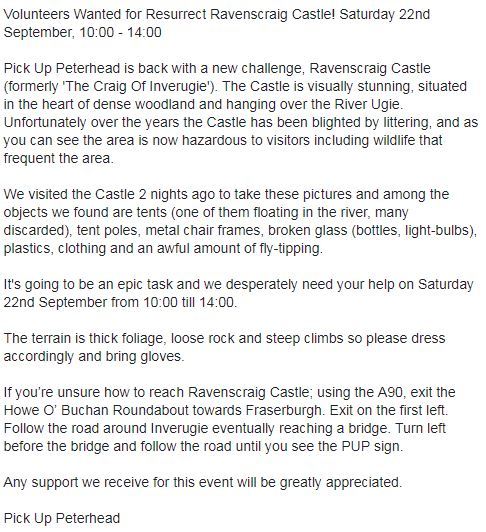 "Pick Up Peterhead as an organisation, after a summer of successful beach cleans, are now hoping to clean up monuments in the area.
"The site has been neglected for years and we had thought about having a clean-up event and a popular request for this was Ravenscraig.
"This will be the first time there has been a clean up event held there.
"The castle is beautiful and it's a shame the area is in such a state."
Support for the September 22 event has been growing since an appeal for help was posted on social media online.
Around 40 people have already pledged their support.
Mr Martin said: "A lot of people frequent the area and are happy we're taking action.
"We've also got the support of the property owners to clean the site.
"The area used to be quite popular with campers, I don't think it is as much any more due to the mess – there's a lot of broken items and things which have been scorched as if they've been in bonfires – there's tents in the river, clothing and a lot of fly tipping, some of the things you can tell have been lying there for years.
"The more people we have, the bigger a chance we have of cleaning more of the space.
"Equipment will be available for everyone attending which includes pickers, hoops, bags and gloves – Morrisons and Aberdeenshire Council are also getting involved.
"It's going to be fantastic and will improve and promote this stunning piece of architecture."
An Aberdeenshire Council spokeswoman said: "We actively encourage groups to pick litter in their communities, our team of community waste officers provide support to these groups by supplying litter pickers and bags to dispose of any waste."
The clean-up will take place on September 22 between 10am and 2pm.
History of Ravenscraig
Formerly known as the Craig of Inverugie, Ravenscraig Castle is a tower house thought to date back to the 1500s.
A licence for the L-shaped building to the north-west of Peterhead was granted in May 1491 for the site on the banks of the River Ugie.
The castle is defended by a moat but archaeologists who carried out research in 1940 believe it may have been dug out as surface quarrying.
Ravenscraig measures 83 feet (25.2 metres) from east to west and 73 feet (22.2 metres) north to south.
It is likely that before the castle was constructed there was another building occupying the land – something of limited strength such as a hall house and courtyard.
The building license is thought to have been issued to Gilbert Keith or one of his sons, William Keith of Inverugie or John Keith of Ravenscraig.
The Craig of Inverugie remained with the Keith family until they were forfeited after their involvement in the 1715 Jacobite rising.
It is thought the castle has been abandoned since that time.
Originally the structure was four floors tall but due to decay these are now completely inaccessible and only the ruins remain.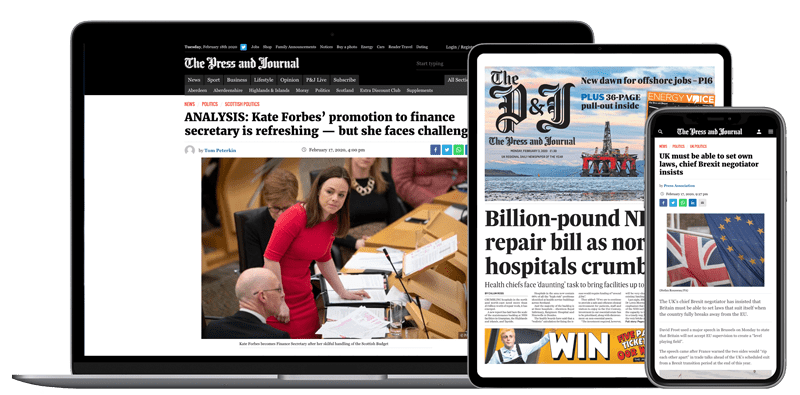 Help support quality local journalism … become a digital subscriber to The Press and Journal
For as little as £5.99 a month you can access all of our content, including Premium articles.
Subscribe