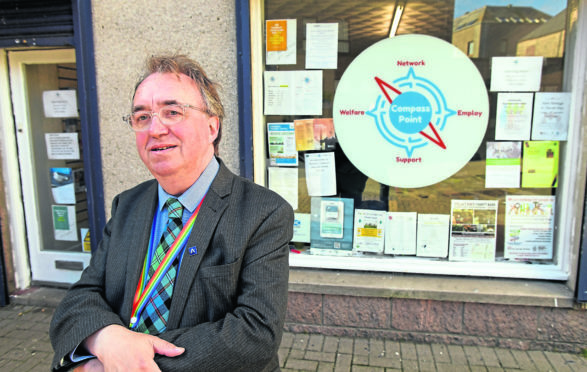 Compass Point project centre in Peterhead will close for the final time on December 21.
The centre on Back Street offered advice, support and training for local residents on a range of issues including debt, benefits, housing and employment.
It emerged in September that the future of the project looked bleak due to European Social Fund grants coming to an end late in 2018.
Rumours subsequently spread throughout the community that the one-stop welfare support centre would shut on December 21. And that has now been confirmed.
Compass Point wrote on Facebook last night: "All of the people who are currently accessing support will continue to do so until the 21st December at Compass Point and thereafter through the existing partners.
"We would like to thank the local community and all those who have used Compass Point and wish them a positive future."
The centre was operated by partners Aberdeenshire Voluntary Action and Foyer Aberdeen, NHS Grampian and funded by Aberdeenshire Council.
Councillor Stephen Calder said he was appalled at how the closure has been handled.
He said: "I have visited this centre almost every day and see the people getting help with a wide range of things.
"But now, four days before Christmas, that's going to be taken away from them.
"I've seen those in need and I'm happy to stand up and represent them, especially now they've no where to go.
"I'm not at all happy about it."
SNP councillor Stephen Smith agreed that Compass Point has been effective in getting people to the right services.
He said: "The team have done a really good job. I know there is a desire among the funding partners that the services provided by Compass Point will continue in some shape or form.
"But what concerns me is we're now three weeks away from the service closing and I'm not sure there's clarity around what form that continued service will take.
"With the launch locally of the Tory Government's Universal Credit scheme, I'm worried some people will be left not knowing where to turn for help."
An Aberdeenshire council spokeswoman said they were sorry to hear the news.
She added: "Service users will be able to access support until the end of the year.
"Thereafter, they will be able to use support provided by existing partners to receive assistance with employability, money advice and digital sessions."