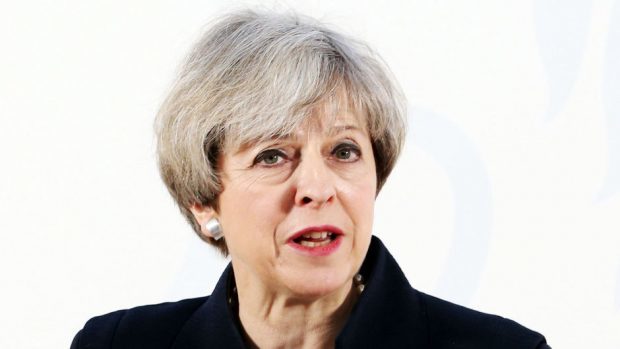 Theresa May has been accused of being "too weak" to face down hard Brexiteers in her party after more than 60 Tories set out their demands for the next stage of exit talks.
The Prime Minister will hold a crunch meeting with senior Cabinet ministers today to thrash out an agreement on how to proceed in negotiations with the European Union.
In a letter, Conservative MPs, including Gordon MP Colin Clark and Aberdeen South MP Ross Thomson, warned the UK must have full control over laws after Brexit and must not become a "rule taker".
Britain must not be stopped from negotiating and signing trade deals during any transition period, they said.
The letter was sent by the European Research Group (ERG), made up of Tory Eurosceptics, and was signed by 62 MPs, including former Cabinet ministers Priti Patel and Iain Duncan Smith.
It includes a number of "suggestions" for securing a successful Brexit, including "taking control" of World Trade Organisation tariff schedules that regulate trading.
"The UK must be free to start its own trade negotiations immediately," the letter adds.
"The UK should negotiate as an equal partner. Ministers may not want or be able to accept the EU's timing and mandates as fixed, and should be able to set out alternative terms including, for example, building an agreement based on our World Trade Organisation membership instead.
"Any 'implementation period' should be based on WTO principles. Any implementation period must not restrain the UK from negotiating or signing other trade agreements."
Labour said the letter exposed the "deep divisions" in the Conservative Party.
Paul Blomfield, shadow Brexit minister, said: "It is clearer than ever that Theresa May cannot deliver the Brexit deal Britain needs.
"She is too weak to face down the fanatics in her own party and to deliver a final deal that protects jobs and the economy."
SNP Europe spokesman Stephen Gethins said the pressure group was holding the prime minister to ransom and Ms Davidson, who campaigned to remain in the EU, was powerless to stop the challenge from a third of her Westminster group.
He said: "Rather than standing up for Scotland, nearly a third of Scottish Tory MPs are now openly advocating an extreme hard-Brexit that will have catastrophic consequences on jobs, the economy and the living standards of millions of people."
Gordon MP Colin Clark told the Press and Journal he was "fully supportive" of Mrs May. He said he was not trying to cause a split within the 13-strong group of Scottish Conservative MPs – and suggested Ms Davidson was weakening the party by not supporting a "no deal" Brexit.
"There have been a range of views on Brexit within the group from the beginning," he said. "My conscience is completely clear that I have supported the prime minister and the government in everything I have been doing.
"The more pressure people put on the government and talk about soft Brexit, the more they weaken our position."